The culture and art found in Avila Beach has its roots in the beauty and proximity of the ocean itself. From art galleries and art shows to public art, historic architecture and jewelry classes, everything is influenced by the calm San Luis Bay. Find a wealth of fine art in shops, galleries, and wine tasting rooms here. Local and West Coast artists are represented in many spaces throughout Avila Beach. During the summer, Art on the Beach invites folks with creative flair to set up shop along the Promenade in the open air. These include painters, sculptors, mixed media artists, glass blowers, jewelers and more. Also in summertime, don't miss the Avila Beach Farmers' Market, where musical artists set up to perform every Friday night. (Mr. Rick's is another great spot to catch live music all year long.) Or walk directly onto the beach to see the lifeguard tower murals painted in a beachy theme by local artist Colleen Gnos. Wherever and however you experience art and culture in Avila Beach, the picturesque Pacific Ocean and life by the sea are primary themes.
Explore Avila Beach Art & Culture
During the summer, the Avila Beach Promenade transforms into an open air art gallery every Saturday from 10am to 5pm. Here, you can walk the length of the boardwalk and enjoy the work of dozens of artists between June and October each year. Media include drawings and sketches, paintings, sculpture, jewelry, and collage. Wander the art market and you'll likely see artists actively working on their next masterpiece. Watch them work and chat about their expertise and inspiration. This is a highly interactive event, all with the stunning Avila Beach and San Luis Obispo Bay as a backdrop. Admission is free, and nearly every piece is available for purchase, from impressive large-format paintings to small masterworks and souvenirs. Buying art at Art on the Beach is a sure-fire way to bring seaside memories home with you. It also directly supports the local artists, Avila Beach culture, and artistic community here in a unique and personal way.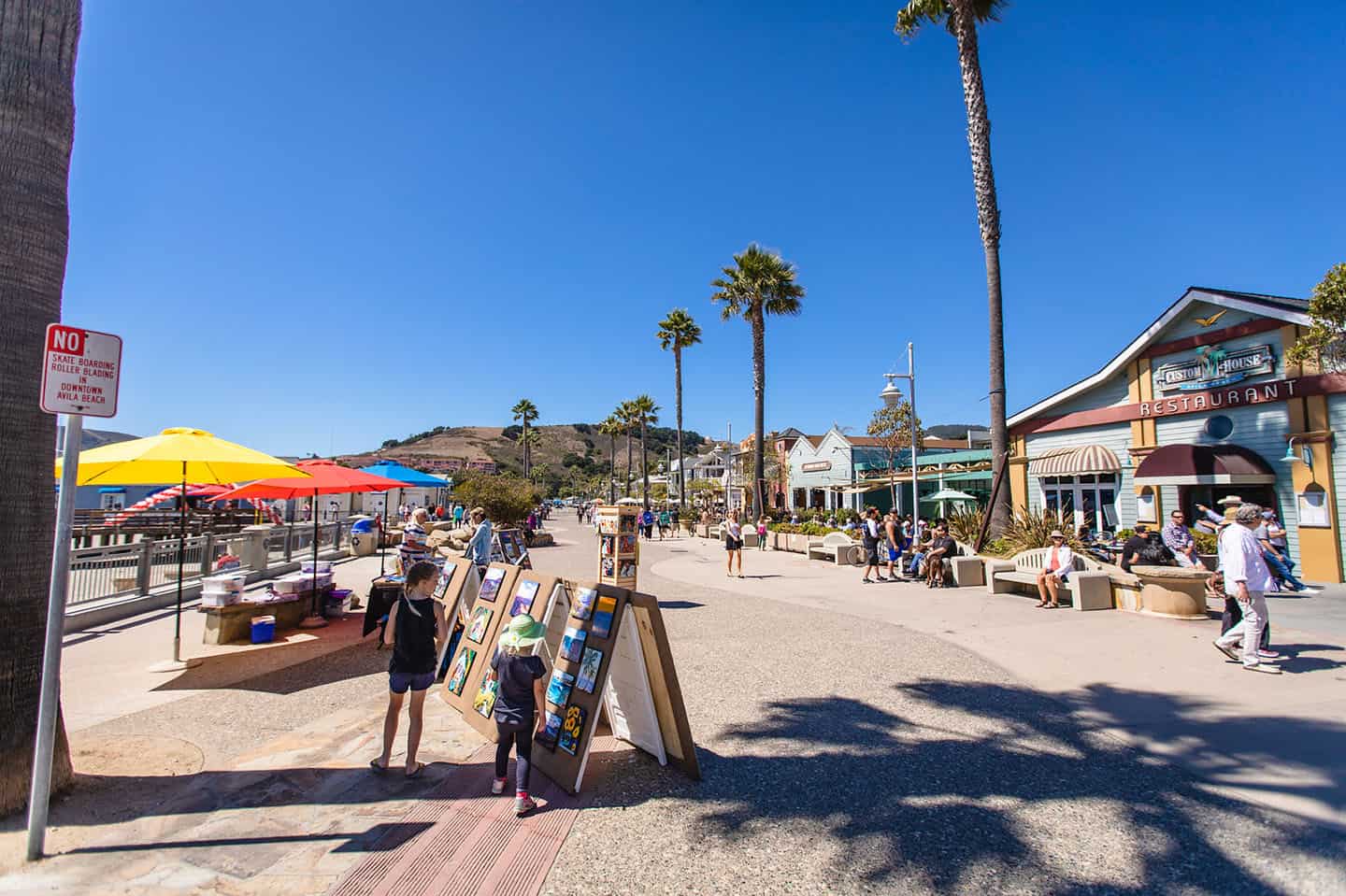 In 2016, the Avila Beach Community Foundation commissioned murals for two lifeguard towers from local artist, Colleen Gnos. The focus? Honoring the past, present, and future of Avila Beach. Each of the two lifeguard towers features four distinct murals, one for each side. Gnos's family has roots in Avila Beach dating back to the 1930s — a history she drew from while painting the eight total panels. She specifically chose to highlight the salty, funky past of this beach town, whose character has changed significantly over the years. An oil spill discovered off the coast in 1988 led to a cleanup process in Avila Beach that took years to complete. With the opportunity to recreate the area's vibe, authorities gave Avila Beach an upscale character, and its quirkiness all but disappeared. Using historical photos and her own fond memories of Avila Beach, Gnos painted scenes that harken back to the town's roots. Images also feature a bright future that prioritizes the health and beauty of Avila Beach's natural beauty and resources.
Located in the charming Landing Passage area of downtown Avila Beach, the Avila Gallery features jewelry, paintings, pottery and more. The space showcases work by four resident artists: Linda Lewis, Sharon Grove, Ana Bass and Tracy Taylor. Their pieces cover a wide spectrum, from watercolors, puzzles and apparel to felt hats and beaded jewelry. Additionally, the gallery features artists like painters Lori Wise, ceramicist Richard Rowk and jewelers Matt Duran, Kasey Burgunder, Jenny Chenowith and Mary Lenz. For those interested in following their own creativity and producing their own artwork, Avila Gallery provides opportunities for instruction. Classes include painting, beading, and jewelry fabrication and enameling from the gallery's resident artists. Each three-hour class takes place weekly at the gallery and includes all materials. Don't miss the chance to learn new skills from some of the best craftspeople in Avila Beach. The gallery also hosts show openings and artists' talks throughout the year.
This fun, well-stocked gallery and gift shop has something for every ocean-lover, from paintings, jewelry and sculpture pieces to toys and apparel. The shop faces the Avila Beach Promenade and the coastline itself, providing a picturesque backdrop. Stop in and wander the rambling gallery, full of handmade pieces from local and nationally-known artists. These include watercolor light shades from artist Rowan Chase, who uses cotton velvet watercolor paper to craft distinctive, colorful, landscape painting light shades. The San Francisco glassworks outfit Dynasty Glass supplies Under The Sea Gallery with unique, handmade pieces featuring graceful jellyfish captured in glass. The psychedelic, surf-and-skate nature-inspired paintings of Morro Bay artists Forever Stoked also enjoy pride of place here. Come shop for the perfect piece to grace your home, or just wander and enjoy the diverse array of artwork. Don't miss the kids' section, where colorful and artistic games and toys delight young visitors. The shop also offers beach essentials like beach towels, sunglasses, apparel and more.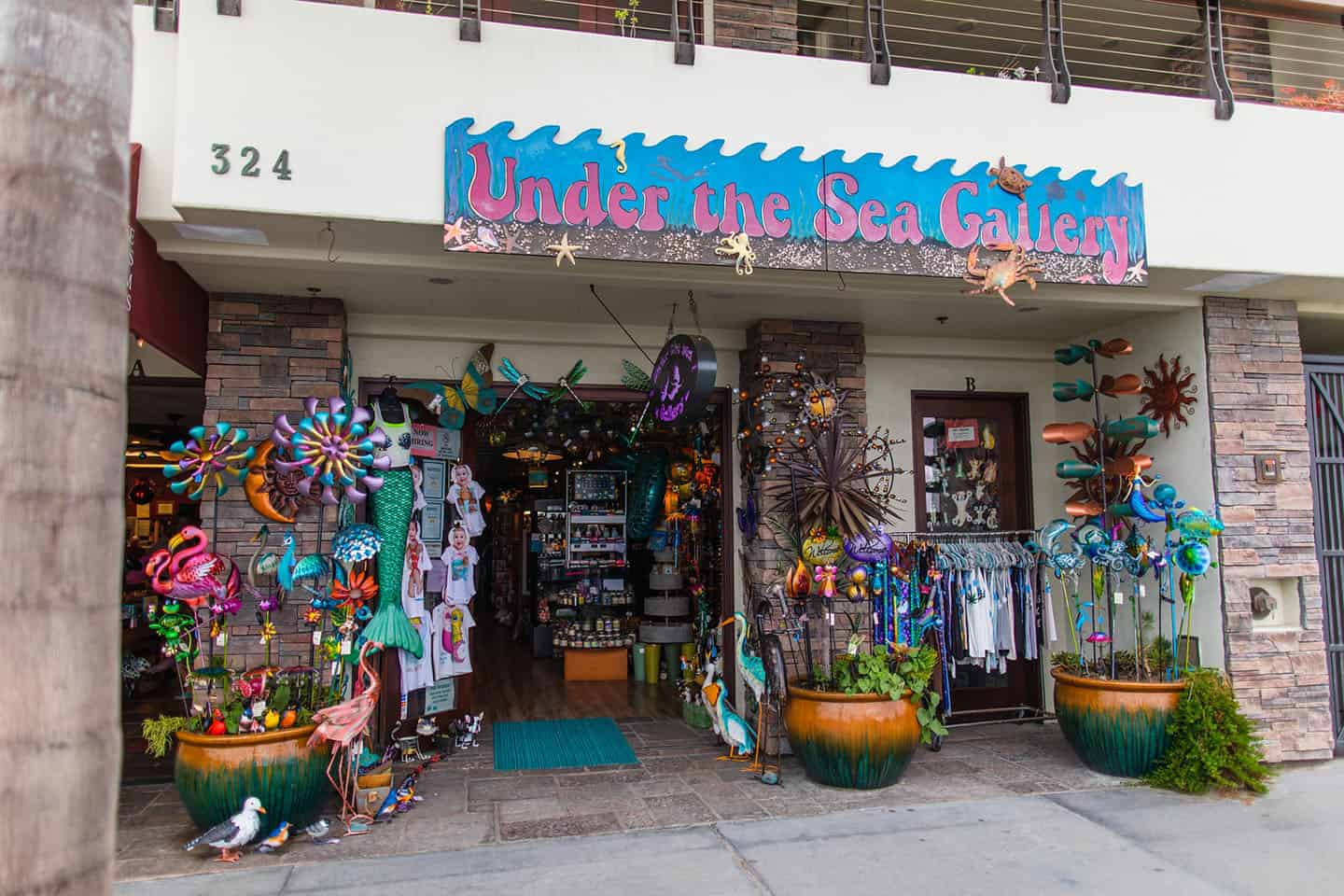 Point San Luis Lighthouse
This historic lighthouse designed by architect Paul J Pelz first began operating in 1890. Pelz, a German immigrant, first established a career as a civil engineer and draftsman for the United States Lighthouse Board. As his notoriety grew after winning prizes through the Lighthouse Board, he won contracts to design lighthouses across the country. One such station was the lighthouse at Point San Luis, which he chose to design in a Prairie-Gothic Victorian architectural style. Pelz built two other lighthouses in an identical footprint and style in Humboldt and San Diego. Of the three of those identical designs, only the Point San Luis Lighthouse remains.(Pelz went on to become a successful architect, designing works that would include the Thomas Jefferson Building at the Library of Congress.) The light station is still in operation over Point San Luis today, and is maintained by the United States Coast Guard. The rest of the location operates as a historic site and was added to the National Register of Historic Places in 1991. Want to see this seaside landmark yourself? Reserve your place for a tour of the property, available Wednesdays and Saturdays. And don't miss the gift shop, where you can purchase porcelain ornaments, sea glass pendants, postcards, and more.