The Fiscalini Ranch Preserve is a precious, one-mile protected open space stretching along Highway 1's Pacific shoreline. With multiple hiking and biking trails—some ADA-accessible—this beloved preserve is a biologically diverse natural wonderland. Bring your family, dog (on leash), bike or just a sturdy pair of walking shoes. Hiking through diverse flora and fauna, you're sure to encounter local wildlife, stunning coastal views and quiet moments of serenity.
Experience FisCalini Ranch Preserve
History of Fiscalini Ranch Preserve
The Fiscalini Ranch Preserve in Cambria boasts a rich history dating back as far as cultural records go. Thanks to a temperate climate and abundant natural resources, Cambria has provided a hospitable home to indigenous people for at least nine millennia, beginning with the Salinan and Northern Chumash tribes. With the advent of the Spanish Missions in the 18th century, tribes were displaced or absorbed into the cultural hierarchy of the day. Later, the site existed as part of the Rancho Santa Rosa Mexican land grant.
The Rancho Santa Rosa Mexican land grant was later subdivided, with one of the parcels owned by the Fiscalini family. The hardworking clan of Italian-Swiss agriculturalists held the property for almost a century, first for dairy stock and later for beef cattle. While the land once boasted thick forests, the Fiscalinis cleared much of it to provide grazing pastures for their cattle. Just 70 acres of Monterey Pines can be found on the ranch preserve today.
When the land was sold in 1979, it looked as though it would be developed into a large residential and commercial project. This never came to pass, as the developer went bankrupt and the land fell to another developer intent on turning the open space into a commercial venture. 
By the year 2000, the American Land Conservancy and SLO County, along with Cambria residents and businesses, had come together to purchase the preserve as well as several neighboring properties. Thanks to this collective commitment, the Fiscalini Ranch Preserve stands as a cherished recreational space that will remain open to the public for all time.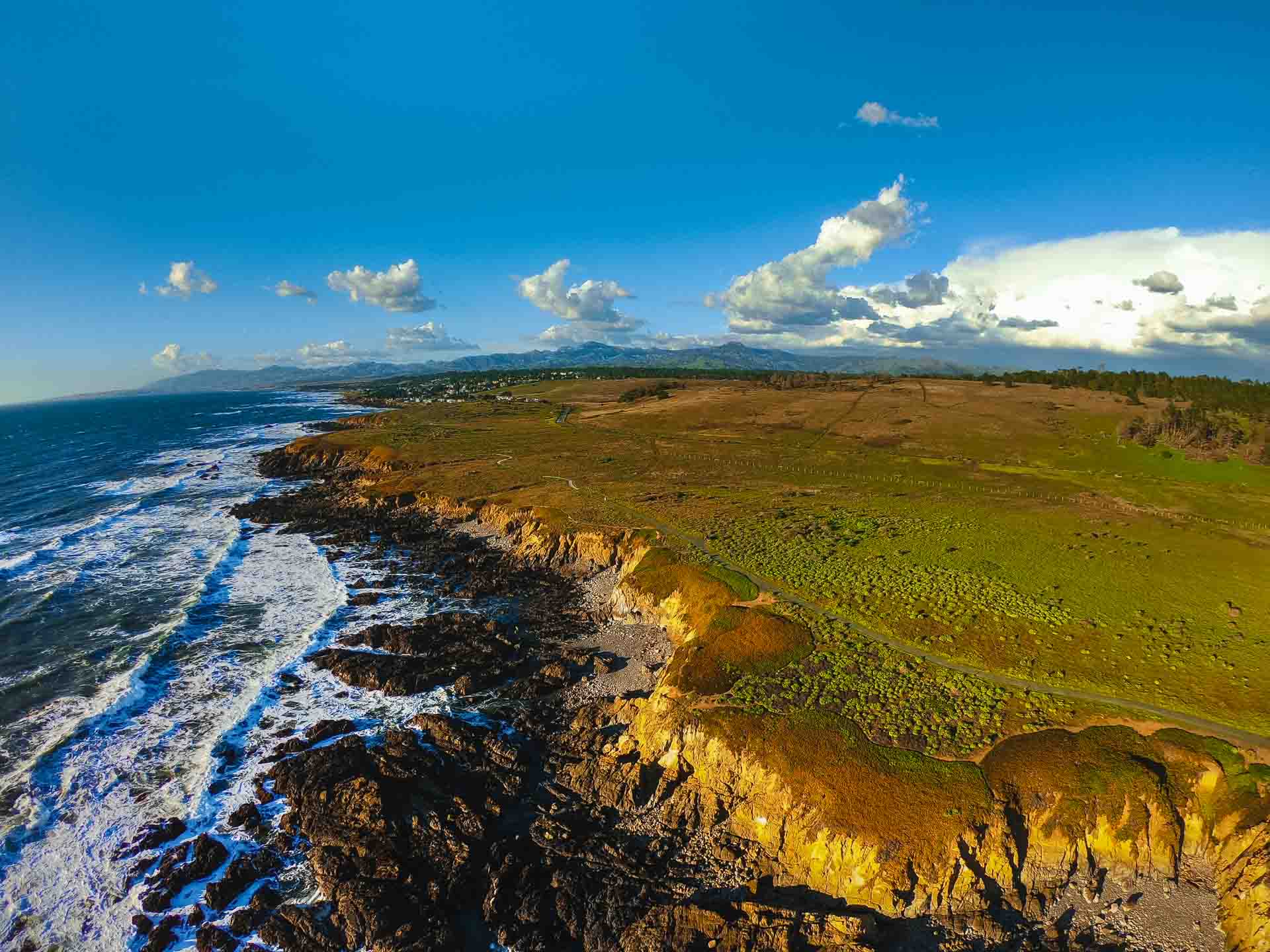 Scenic views of the Fiscalini Ranch Preserve
Walking the Trails of Fiscalini Ranch Preserve
The Fiscalini Ranch Preserve's scenic views are accessible from many hiking points along its perimeter. Boasting a network of 17 hiking trails, these diverse paths meander through coastal prairie, pine and oak forests, wetlands and more. Popular routes include the Bluff Trail, Santa Rosa Creek Trail, and Forest Loop Trail, which travels through a 70-acre Monterey Pine forest. Each trail explores one scenic section of the preserve. It goes without saying that linking several trails together can make for a robust and varied hike. Explore a little or walk a lot—it's up to you.
Some Fiscalini Ranch Preserve trails are ADA-accessible, including the Bluff Trail and the Marine Terrace Trail. These paths are also family-friendly, stretching just 1.2 miles at most. You'll find that each path beckons with a world of flora and fauna all its own.
Visitors are also invited to access scenic Moonstone Beach from the Fiscalini Ranch Preserve by walking 1.8 miles from the northernmost entrance north along Windsor Boulevard.
Cambria hikes are full of exciting surprises, including incredible wildlife and sightseeing opportunities. Learn more about the best trails available at Fiscalini Ranch including hikes perfect for first-timers, families, equestrians and experienced outdoor enthusiasts.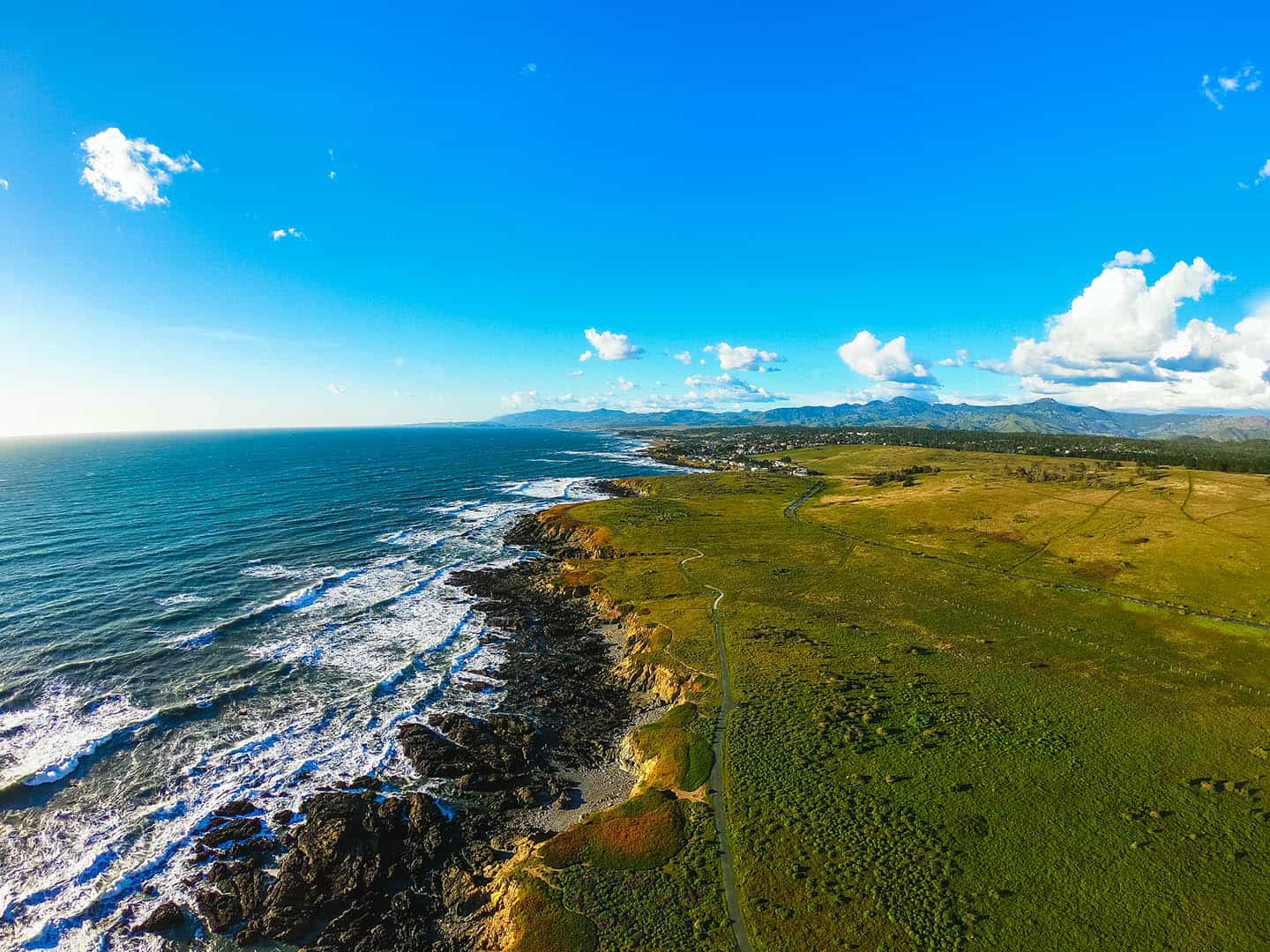 The Cambria Wildflower Show blooms into brilliant color each spring. Visitors are invited to enjoy this colorful celebration of local wildflowers, many of which thrive at Fiscalini Ranch Preserve. A small donation to Friends of the Fiscalini Preserve grants access to a comprehensive tour of the flora diversity of northern San Luis Obispo County from the Monterey County line to the Morro Bay Estuary and from the coastal bluffs to the ridge of the Santa Lucia Mountains.
This annual event hosted at Cambria Vetran's Memorial Hall is known to include fresh flower bouquets as well as rare, endangered, invasive and poisonous plants all identified with botanical and common names. Botanists are on hand to answer any questions and even work to identify mystery plants for curious attendees (bring a photo reference).
To round out the day's events, savor culinary treats and refreshments or shop helpful books, plant lists, wildflower seeds and merchandise available courtesy of the Friends of the Fiscalini Ranch Preserve and California Native Plant Society.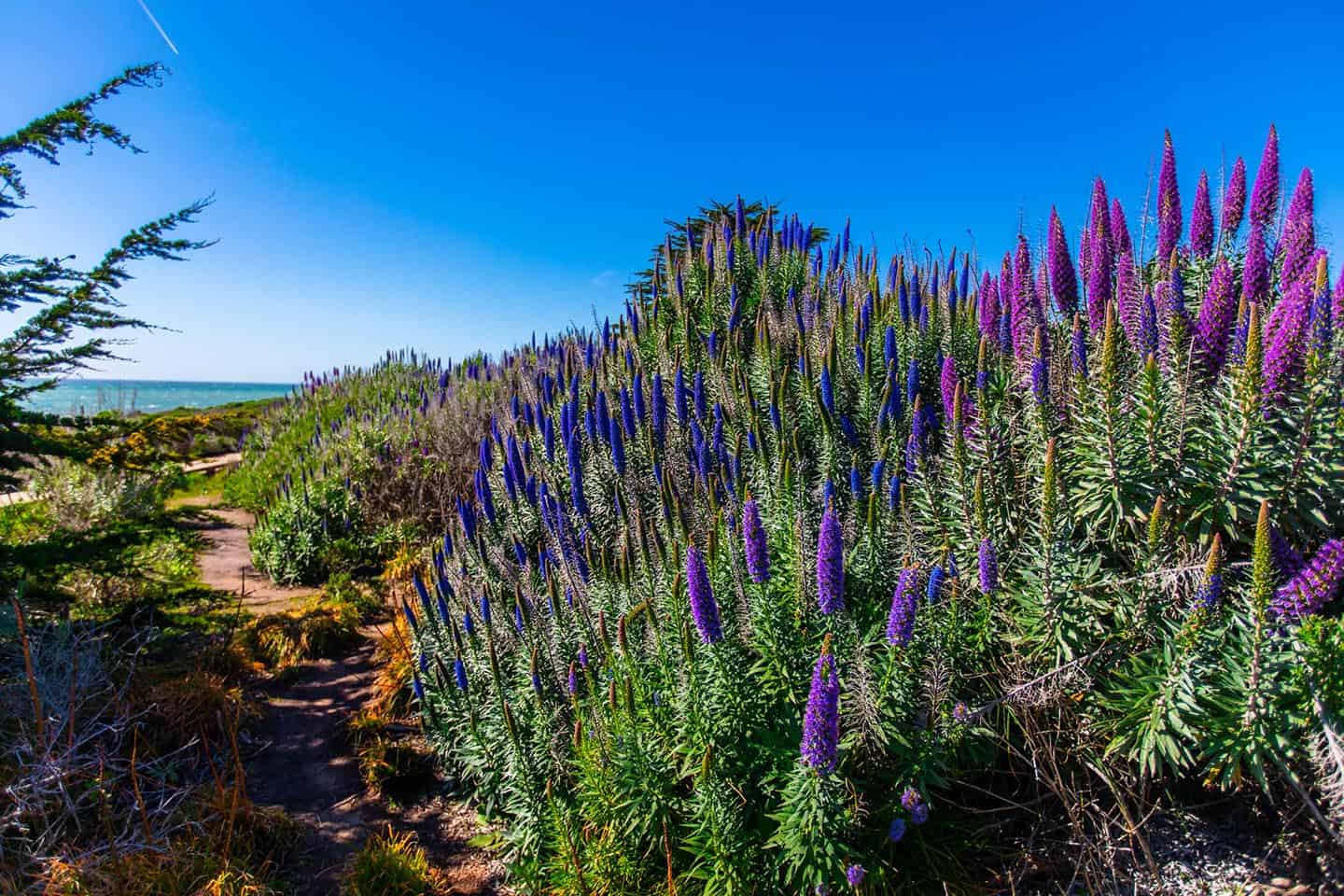 Horseback in the Fiscalini Ranch
Explore the Fiscalini Ranch Preserve by horseback and enjoy the scenery from a uniquely elevated vantage point. Simply obtain a permit from the Cambria Community Services District and hop in the saddle. Known for trails of unparalleled beauty, equestrians of all skill levels flock to Cambria's unspoiled coastal terrain. In fact, you can trot through Cambria's majestic pine forest with help from Covell's Clydesdales, a local equestrian outfitter with knowledge to spare. Ready to ride? Choose from five horseback-riding trails at Fiscalini Ranch Preserve: Marine Terrace Trail, Creek to Forest Trail, Ridge Trail, Creek to Ridge Trail and Santa Rosa Creek Trail West. Whether you're new to the reins or a pro, your next pleasure ride awaits at Fiscalini Ranch Preserve.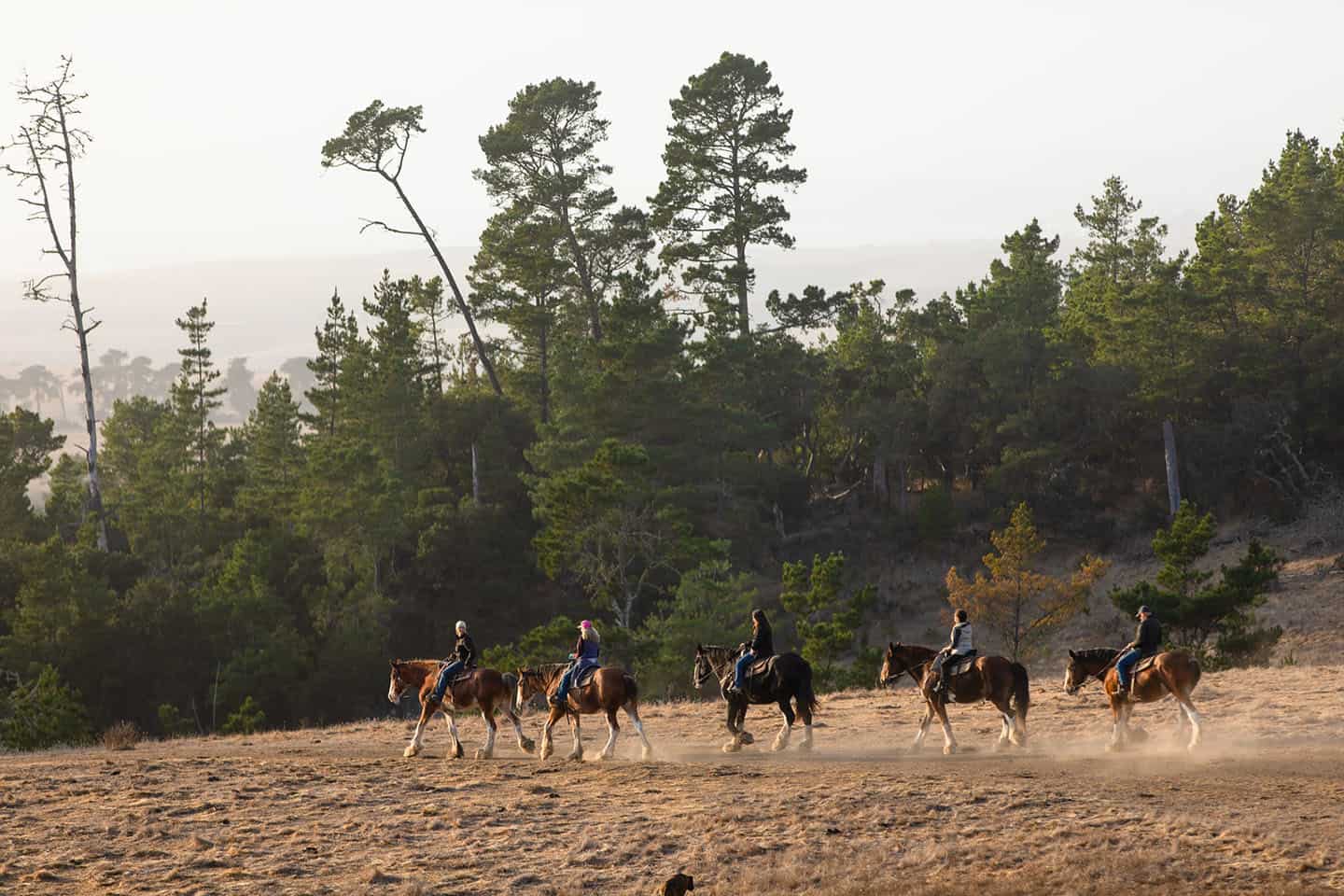 Dog Park at Fiscalini Ranch
Leashed dogs are welcome to join the adventure at Fiscalini Ranch Preserve. Invite your four-legged friend on an outdoor excursion they won't soon forget: Whether you embark on a quiet hike or a long journey, your dog will appreciate the sights and smells of this rugged landscape. Dog owners can also access an off-leash dog park off Burton Drive, bordering the east side of Fiscalini Ranch. With designated areas for large and small breeds, this convenient dog park provides a great opportunity for dogs of all ages to expend excess energy before embarking on Fiscalini Ranch trails. Kick back at the shaded rest area while canines lap from provided water bowls and frolic with newfound friends.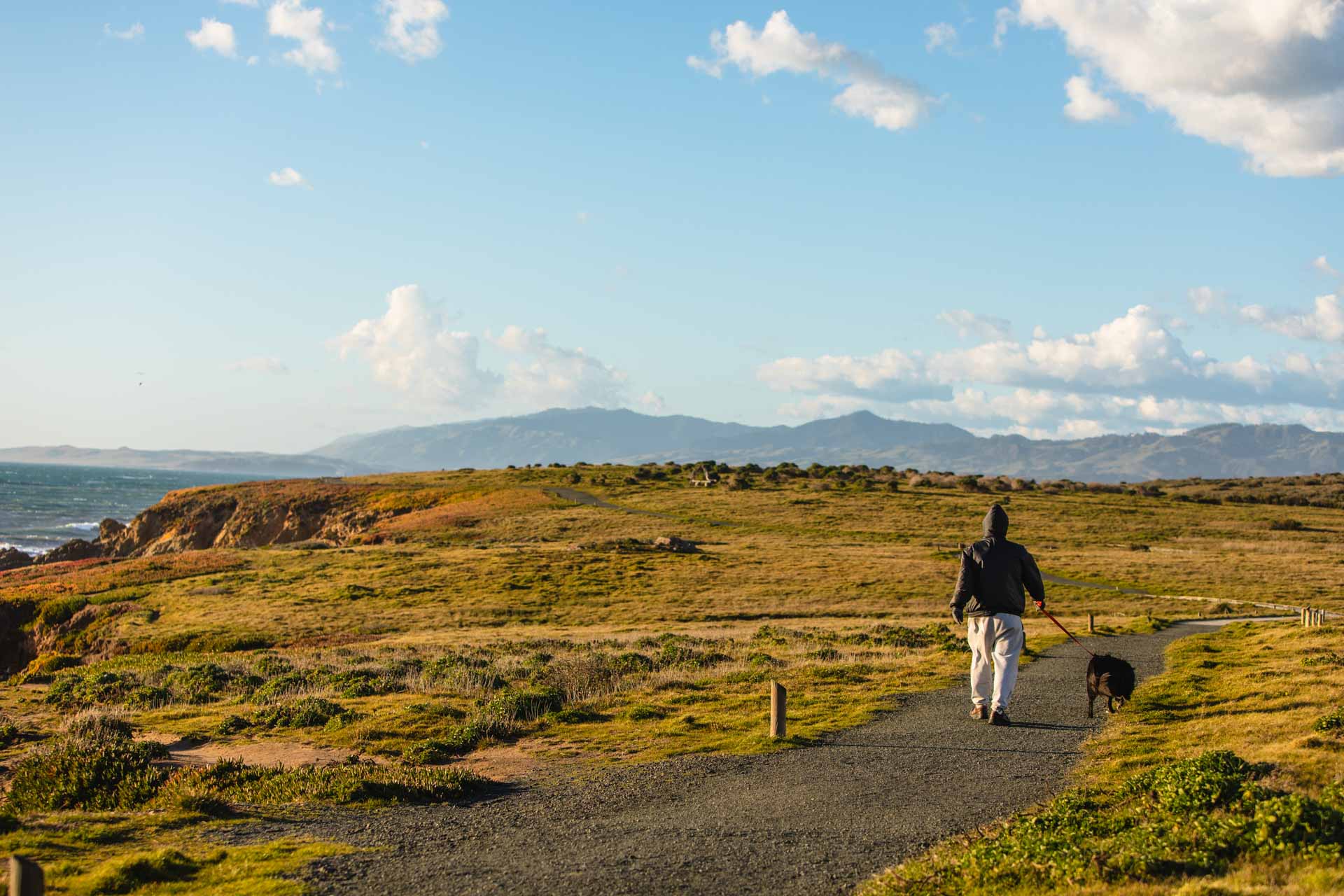 Fiscalini Ranch Etiquette
The Fiscalini Ranch Preserve is a unique natural resource and we thank visitors in advance for helping ensure it remains beautiful for future generations. How can you ensure that this vibrant open space remains healthy for years to come? First off, keeping dogs on leash–and picking up after your pet–ensures that the ecosystem remains unspoiled. Visitors and their pets are also asked to keep to designated trails and to avoid stepping too close to local wildlife and surrounding habitats. Pack out any items you might pack in and remember that harvesting plants, smoking, fires, hunting and camping are strictly prohibited. With your continued care and respect, this precious preserve will continue to inspire future visitors.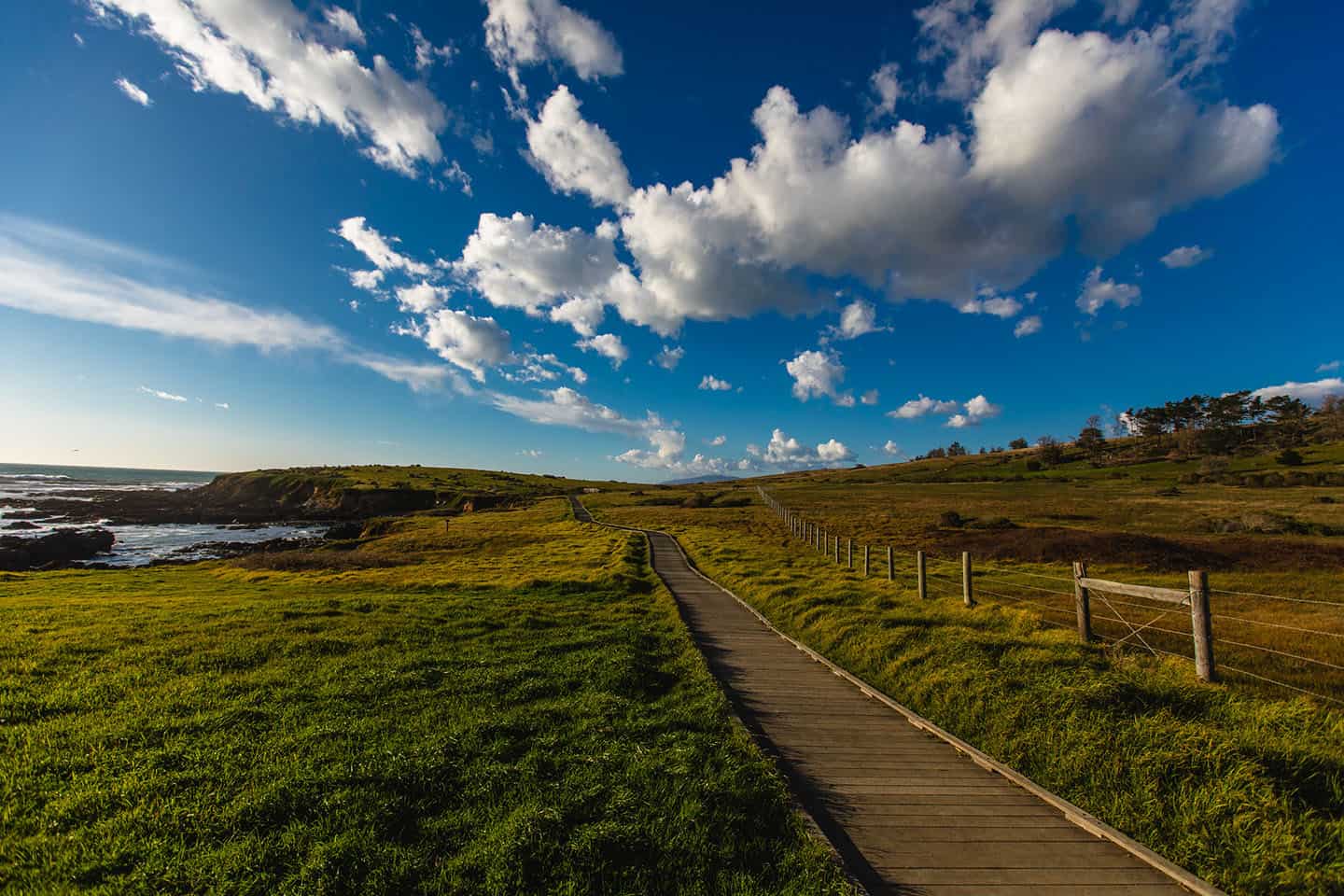 Weddings at Fiscalini Ranch
A wedding at Fiscalini Ranch Preserve is always one-of-a-kind. Thanks to a combination of rugged natural beauty and breezy coastal charm, this Highway 1 destination is in high demand. Contacting the Cambria CSD is the best way to inquire about hosting a wedding or special event within the preserve (we recommend booking far in advance). Whether you wish to host a handful of loved ones or just a single witness, you'll find an awe-inspiring location to backdrop your big day.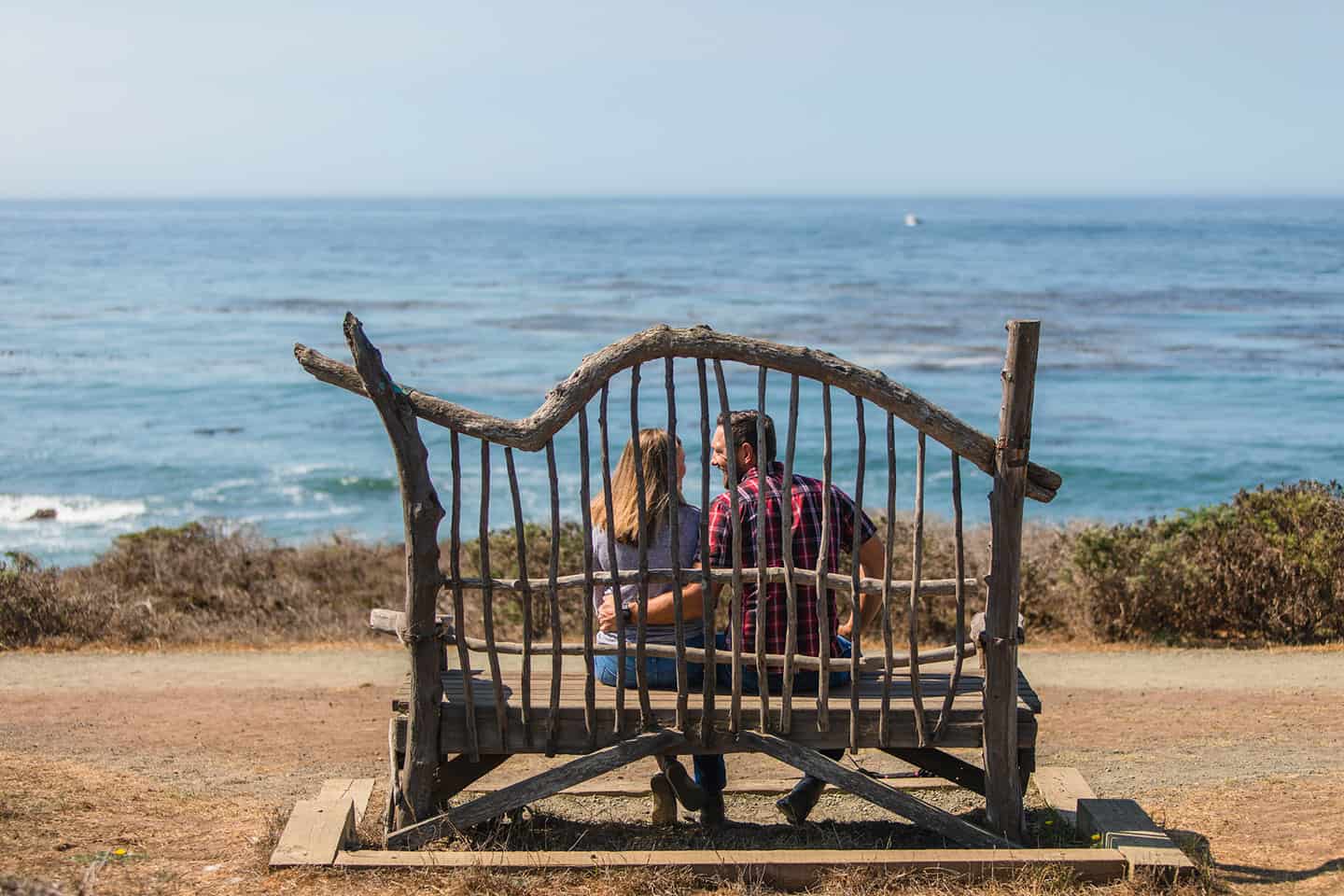 Stewardship Travel For Good Activities
Dive deeper into Fiscalini Ranch preservation and education when you Travel for Good along Highway 1. A docent-led nature walk lead visitors through the preserve's lush trail system, highlighting diverse native wildlife, flora and fauna. Ready to roll up your sleeves and dig into this incredible natural wonder for yourself? Monthly work days allow anyone to get involved in trail conservation—a great way to enjoy the view while working up a sweat.