A precious and protected open space, the Fiscalini Ranch Preserve stretches for one mile along the Pacific shoreline. With multiple hiking and biking trails — some ADA-accessible — this beloved preserve is a biologically diverse natural wonderland. Bring your family, your dog (on leash), your bike, or just a sturdy pair of walking shoes, and enjoy the quiet, wildlife, and coastal views.
History of Fiscalini Ranch Preserve
Thanks to a temperate climate and abundant natural resources, Cambria has been a hospitable home to people for at least nine millennia, beginning with the Salinan and Northern Chumash tribes. With the advent of the Spanish Missions in the 18th century, these people were displaced or absorbed into the cultural hierarchy of the day. Later, the place that is Fiscalini Ranch once inhabited a Mexican land grant, Rancho Santa Rosa. 
This was later subdivided and one of the parcels hosted the Fiscalini family, Italian-Swiss agriculturalists. The Fiscalinis held the property for almost 100 years, first for dairy stock and later for beef cattle. While the land once boasted thick forests, the Fiscalinis cleared much of it to provide grazing pastures for their cattle. Just 70 acres of Monterey Pines can be found on the ranch preserve today.
When it sold in 1979, it looked as though the property would be developed into a large residential and commercial project. But that developer went bankrupt and the land fell to another developer, intent on turning the open space into a commercial venture. 
But in 2000, the American Land Conservancy, SLO County, and Cambria's residents and businesses purchased the preserve and several neighboring properties. Thanks to their commitment to keeping the Fiscalini Ranch Preserve an open space, it will remain public recreational land forever.
Experience FisCalini Ranch Preserve
Scenic views of the Fiscalini Ranch Preserve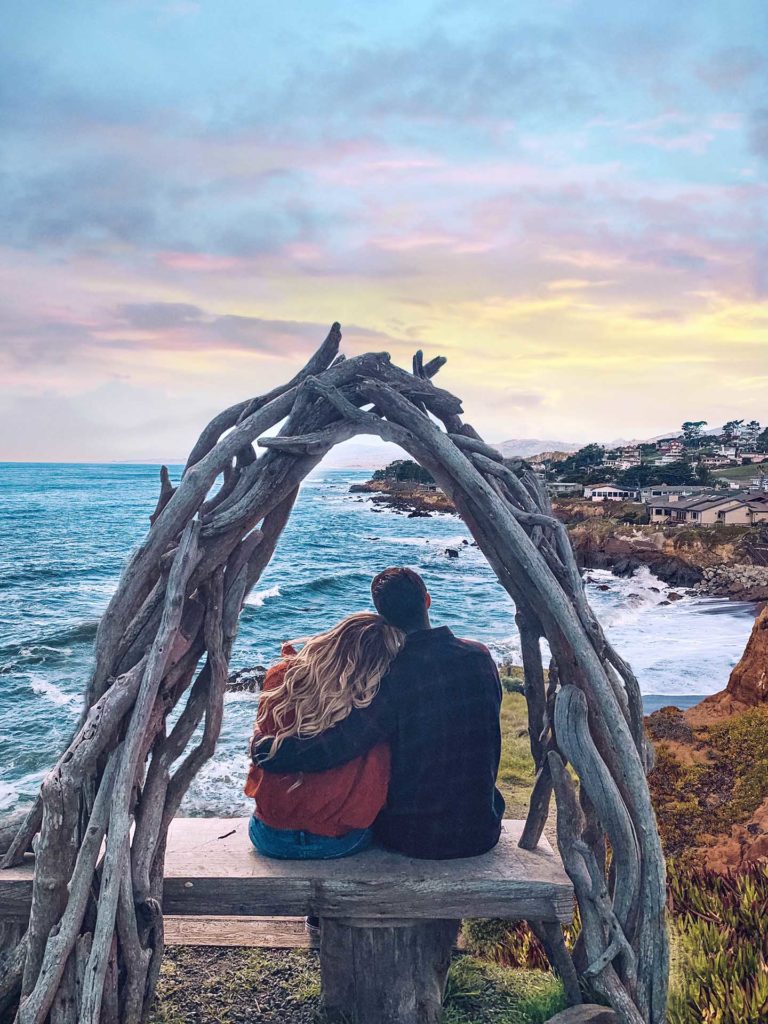 Walking the Trails of Fiscalini Ranch Preserve 
The Fiscalini Ranch Preserve is accessible from many points along its perimeter, and boasts a network of 17 hiking trails between its borders. Some hikes wander through coastal prairie, pine and oak forests, wetlands and more. Popular routes include the Bluff Trail, Santa Rosa Creek Trail, and Forest Loop Trail, which travels through a 70-acre Monterey Pine forest. Each trail explores one small aspect  or section of the preserve, so linking trails together makes for a more robust and varied hike. Walk a little or walk a lot – it's up to you.
Some of these trails are ADA-accessible, including the Bluff Trail and the Marine Terrace Trail. They are also family-friendly, stretching just 1.2 miles at most, each path teeming with flora and fauna to explore together.
It's also possible to access Moonstone Beach from the Fiscalini Ranch Preserve by walking 1.8 miles from the northernmost entrance north along Windsor Boulevard.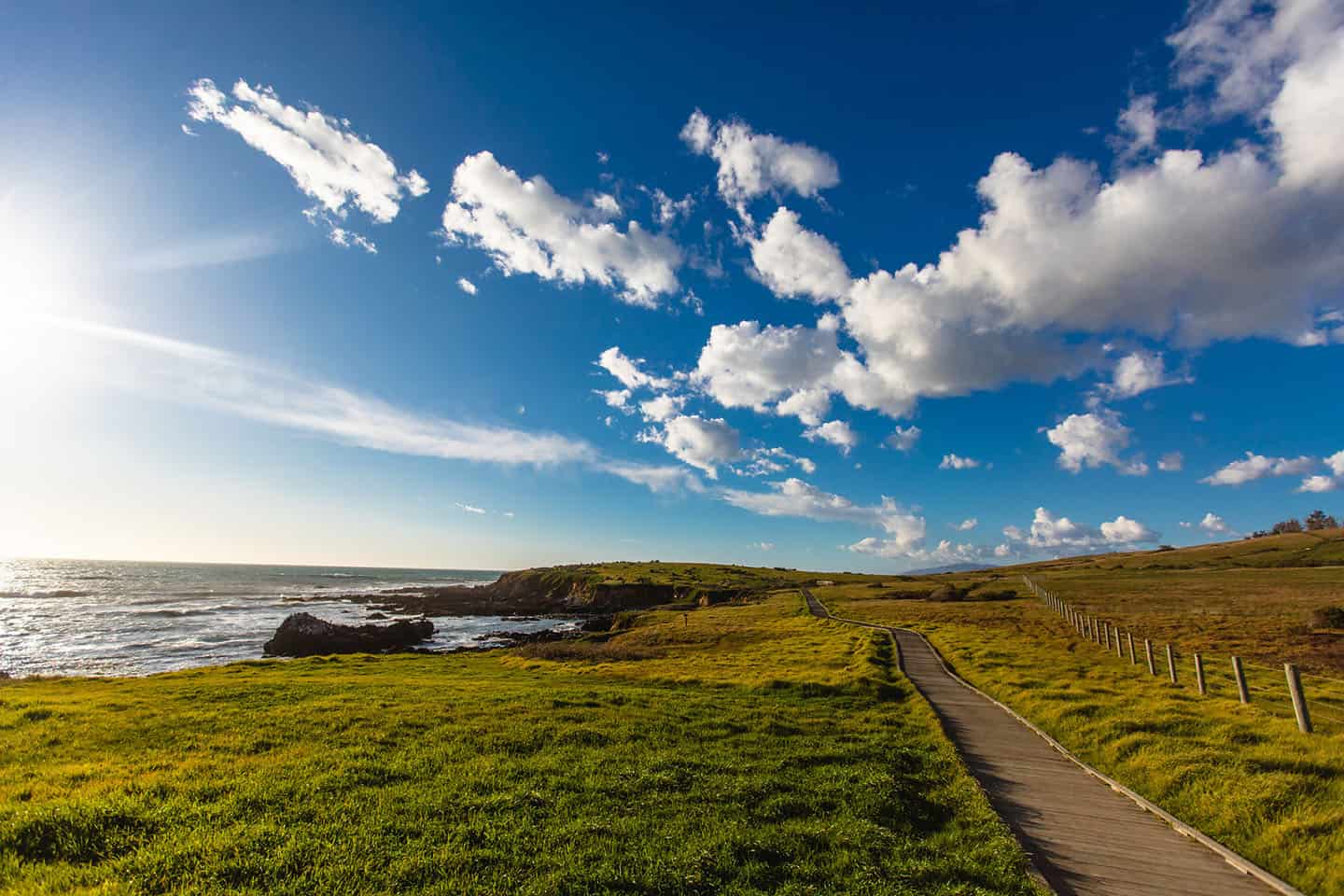 Stewardship Travel for Good Activities
When you want to go deeper with local culture on your travels, Stewardship Travel for Good experiences can lead you there.
These monthly docent-led walks take 25 hikers or less through the preserve's large coastal ecosystem. To the north, the preserve is bordered by a riparian habitat with freshwater marshes and wetlands favored by many bird species. It also boasts part of one of the world's only remaining native stands of Monterey Pine trees. Nature walks at the preserve are led by expert docents and cover a variety of topics. 
Monthly on the 3rd Saturday and most Wednesdays, the Friends of the Fiscalini Ranch Preserve offer the opportunity to care for this diverse open space. The preserve is cared for by volunteers only, so every set of hands really helps. Activities can include removing invasive plant species for wildflowers to grow, and trail maintenance, all with a beautiful natural view.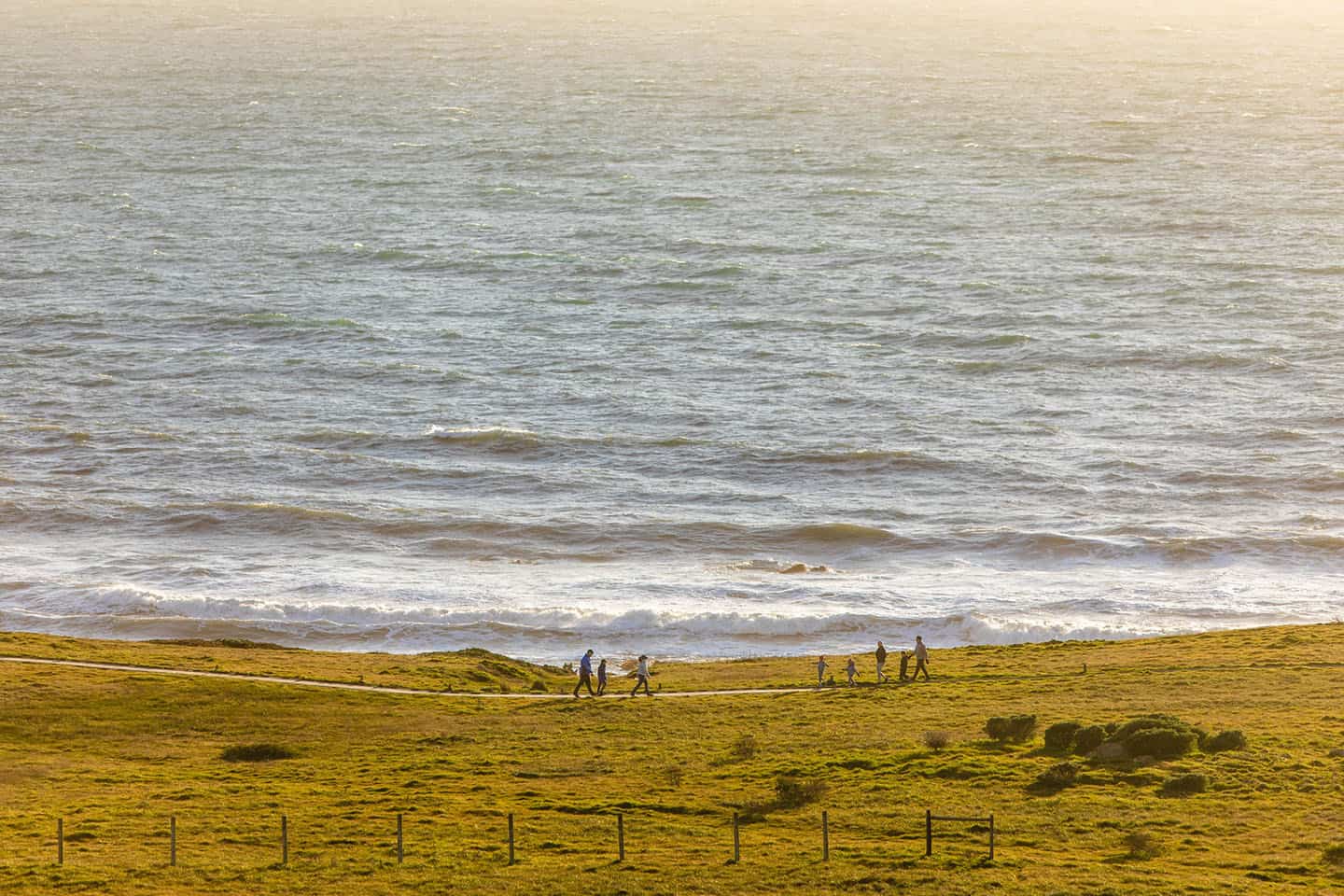 Cambria Wildflower Show
Every April, the Friends of the Fiscalini Ranch Preserve and the California Native Plant Society host this celebration of wildflowers at the Cambria Veteran's Hall. This is a wonderful opportunity to see common and rare wildflowers, gathered in the field, all in one convenient location. Knowledgeable docents are on-hand to share their expertise.