Of the 101 miles of coastline in San Luis Obispo County, half are protected shoreline. In other words, surf, sand and sun are always within reach here.
The Central Coast boasts some of the best beaches in the U.S., and certainly on the West Coast. What sets them apart? Think miles of white sand, uncrowded, untouched ― and unbelievably scenic. Here, we'll showcase the best of them from north to south. Visitors can find a wide spectrum of options, including family-friendly beaches, pet-friendly beaches, and beaches for sunbathing, beachcombing, wildlife viewing, surfing, and tidepooling. (For information on beaches with cliffside bluff hikes, visit the Hiking on Highway 1 page. And to get more details on beaches with tidepools, see our page all about the Tide Pools and Sea Life of Highway 1.) No matter your idea of the perfect vacation, the beaches between Big Sur and Nipomo have you covered.
Of course this section of Highway 1 has many, many additional spectacular beaches to those we detail here. Download our exclusive 25 Hidden Secrets of Highway 1 to discover more.
Download your free beaches map from highway 1
Get Map
Explore the Best Beaches on Highway 1
Ragged Point
Ragged Point's Black Sand Beach
Unique among beaches along this stretch of Highway 1, Ragged Point's Black Swift Falls Beach has black sand. (Some call it a purple sand beach—you be the judge!) The color is a remnant of ancient volcanoes whose sediment mixed into the beach sand. The sight is striking, though getting there is a challenge. Be ready for a short but steep hike down to the beach by a series of switchbacks descending 400 feet. The payoff? A secluded black-sand beach and a waterfall that runs down the towering cliffside, tumbling to the beach and into the ocean. It's not uncommon to find this beach completely empty of visitors, so definitely take advantage. Find the trailhead adjacent to the Ragged Point Inn, near the "Million Dollar View" statue. (This round sculpture has a hole in the middle that captures a spectacular view of the Big Sur coastline. Don't miss the chance to see it on your way down to the beach.) Before and/or after your hike and beach adventure, hit the Ragged Point Restaurant for elegant cuisine, fine local wine, and an ocean view to remember.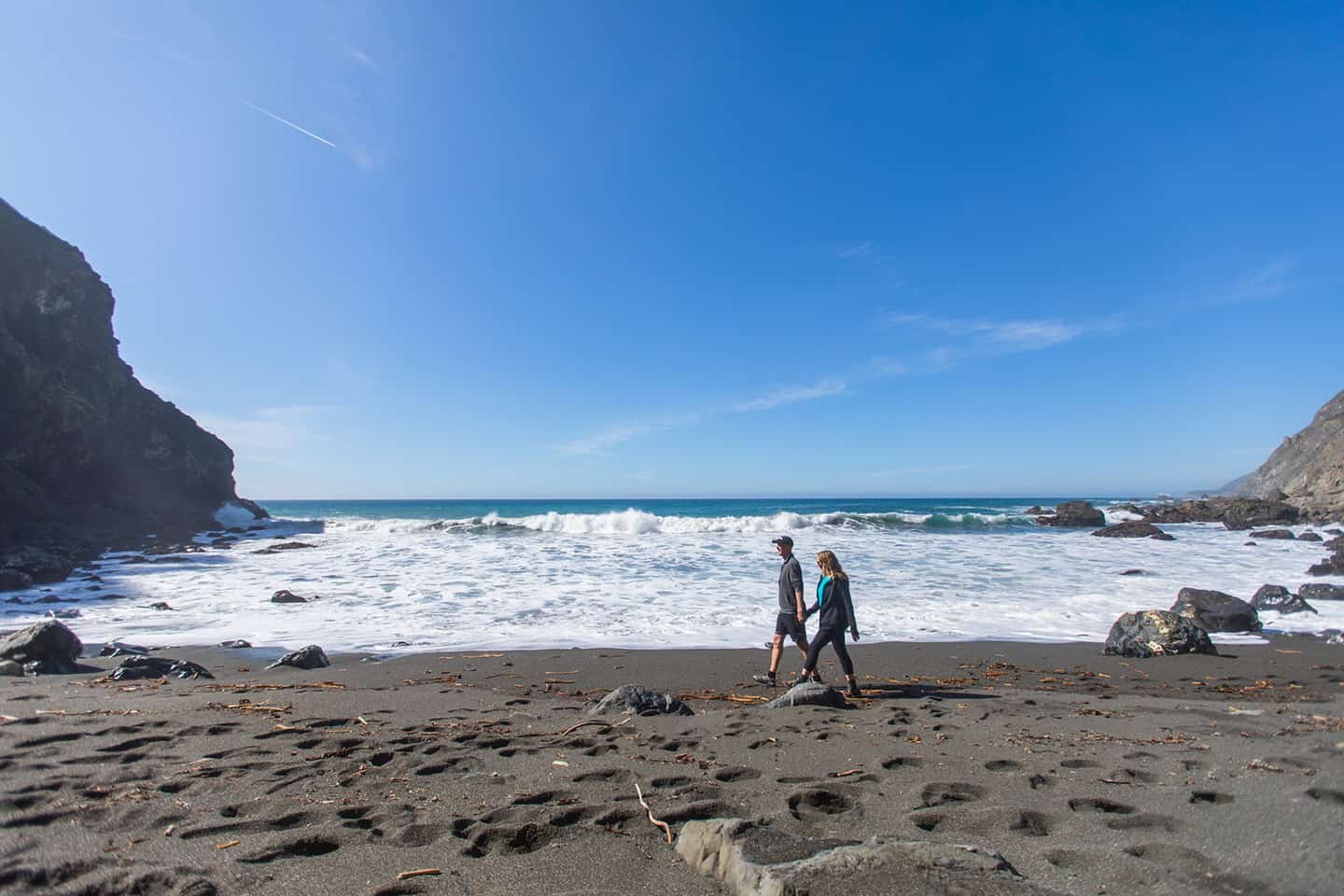 San Simeon
San Simeon's Hearst State Beach
This serene beach is known for its calm and glassy waters, exceptional views, and easygoing, family-friendly vibe. It's also a point of historical interest, as it once belonged to William Randolph Hearst, whose hilltop estate lies just across Highway 1. A great way to begin any beach day here is at the Coastal Discovery Center at the base of the San Simeon Pier. Here, visitors learn about the marine life and natural and cultural history of San Simeon Cove. If your visit makes you curious about the local wildlife, borrow binoculars from the Coastal Discovery Center and head to the San Simeon Pier. This provides an excellent spot for whale watching, but you may also spy sea otters, seals, or even dolphins, too. On the sand, you'll enjoy calm conditions thanks to the protection of the cove. This is an exceptionally convenient spot for a beach day, with easily accessible parking, picnic tables, and bathrooms. There's even a trailhead just north of the pier that leads out to San Simeon Point—a low-key, family-friendly hike with panoramic ocean views.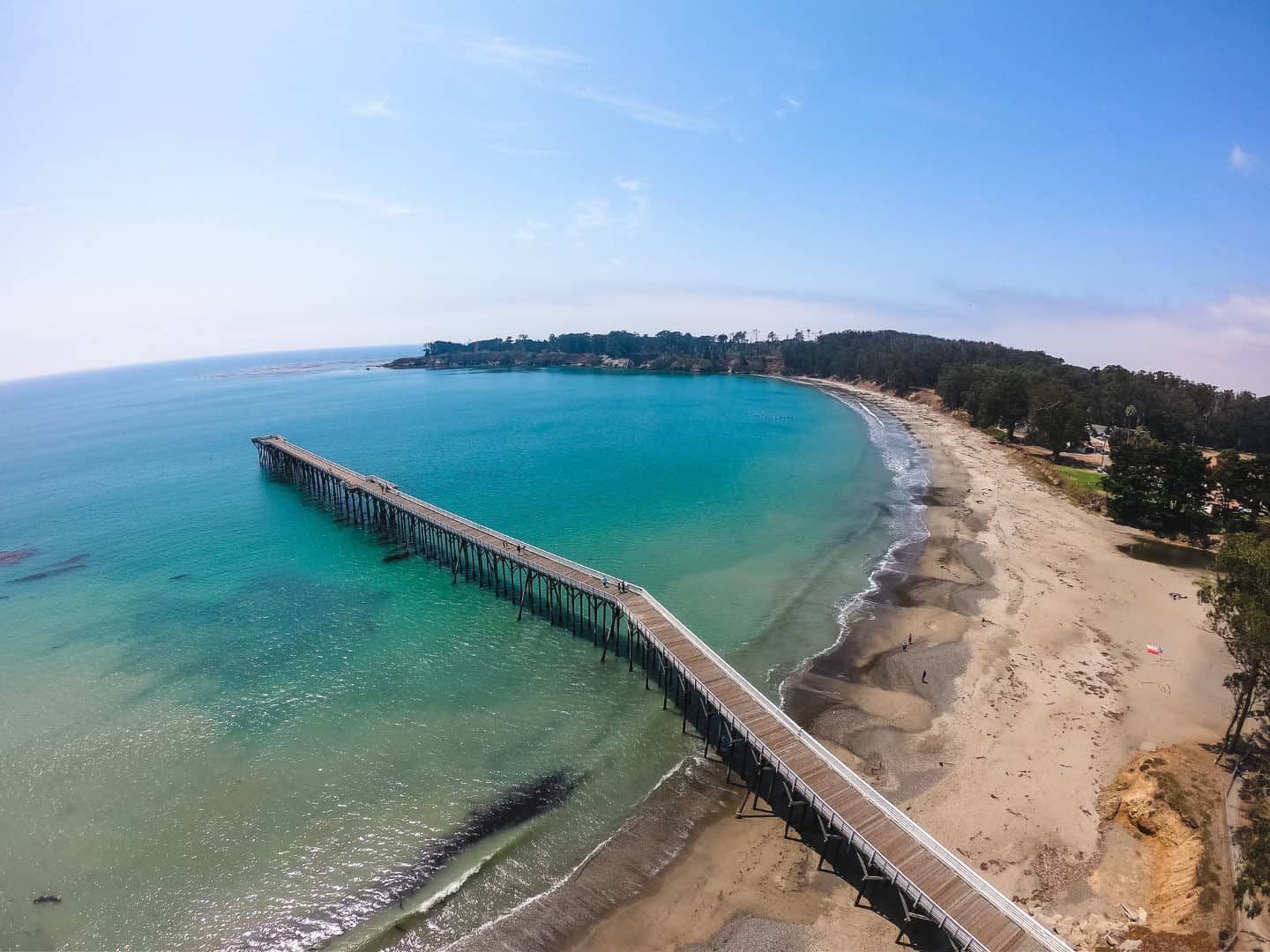 Cambria
Cambria's Moonstone Beach
One of the best beaches in Central California for beachcombing, Moonstone Beach encourages exploration for visitors of all ages. This beach is known for its smooth "moonstones" as well as sea glass and driftwood, all of which are especially prevalent after storms. (On that note, beware that waves can be large and strong here, often unsuitable for swimming, surfing, or kids wading.) Adjacent Shamel Park offers parking, restrooms, a playground, gazebo, horseshoes, playing field, and even a seasonal heated swimming pool. Note: dogs are not allowed on Moonstone Beach, but are permitted on leash in Shamel Park. For a scenic approach to the beach, take the one-mile boardwalk from the north end of Moonstone Beach Drive, south of Leffingwell Landing. The boardwalk parallels the beach and is ADA-accessible (as well as stroller-accessible), offering picturesque views from a variety of benches and lookout points.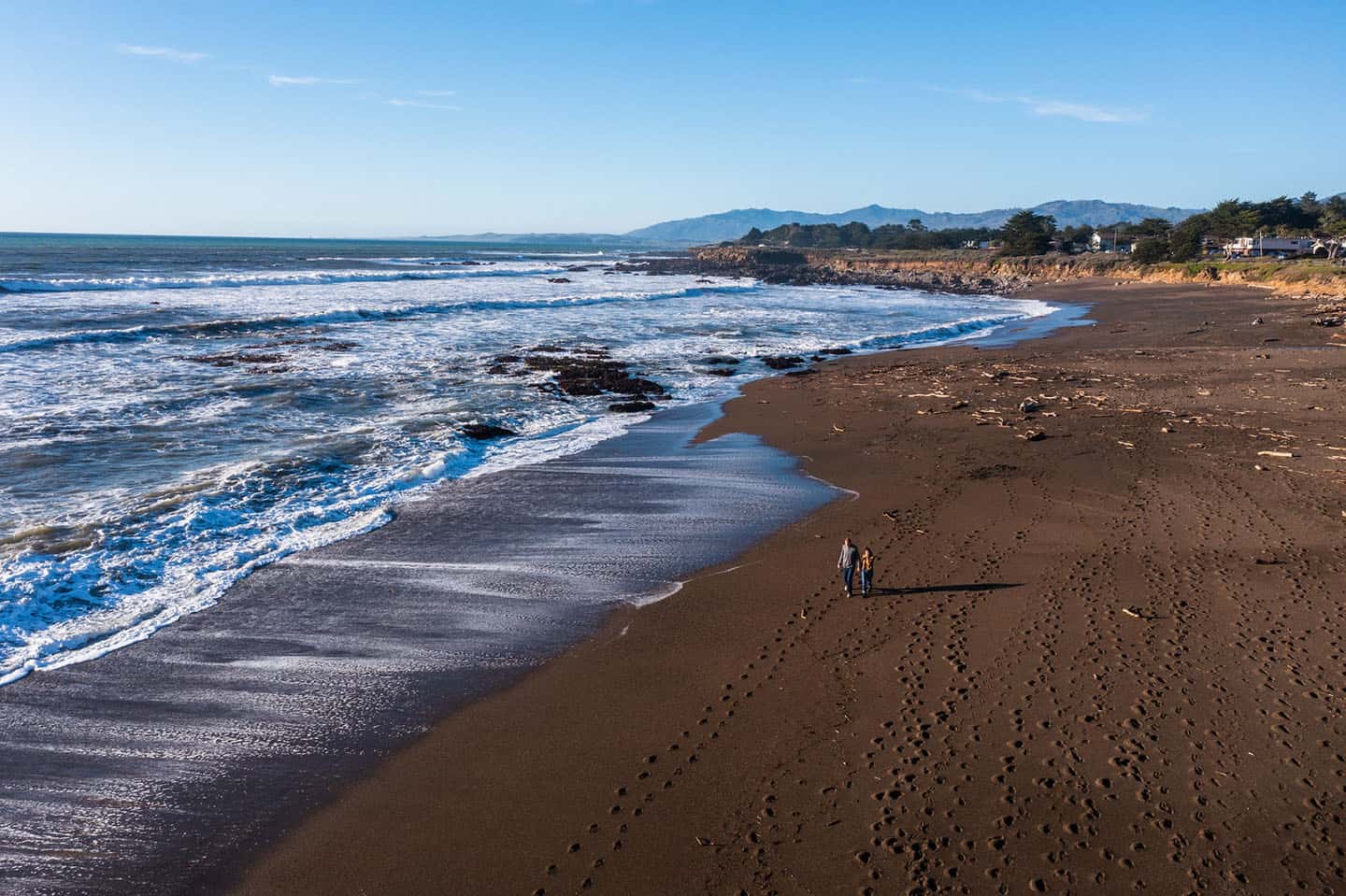 Cayucos
Cayucos State Beach
Cayucos State Beach blends sand, surf and sun for a classic California vibe. Kids will love the sizable beach playground, with its swingset, tall slide, and jungle gym to challenge your little monkeys. They'll also get a kick out of fishing off the historic Cayucos Pier—no fishing license required—and exploring tidepools at the beach's southern end. For surfers, the waves near the pier offer thrills, and surf schools like Cayucos Surf Company help newbies get in on the action. During the summer months, lifeguards watch the beach and help to keep swimmers, surfers, and splashers safe. Not into surfing? A very shreddable public skatepark lies just at the end of the pier. Multiple casual restaurants line the shore, from the sea-worthy Schooner's Restaurant to casual Ocean Front Pizza. Other amenities include restrooms, outdoor showers, and parking. And don't forget Fido! Dogs are allowed on Cayucos State Beach on leash.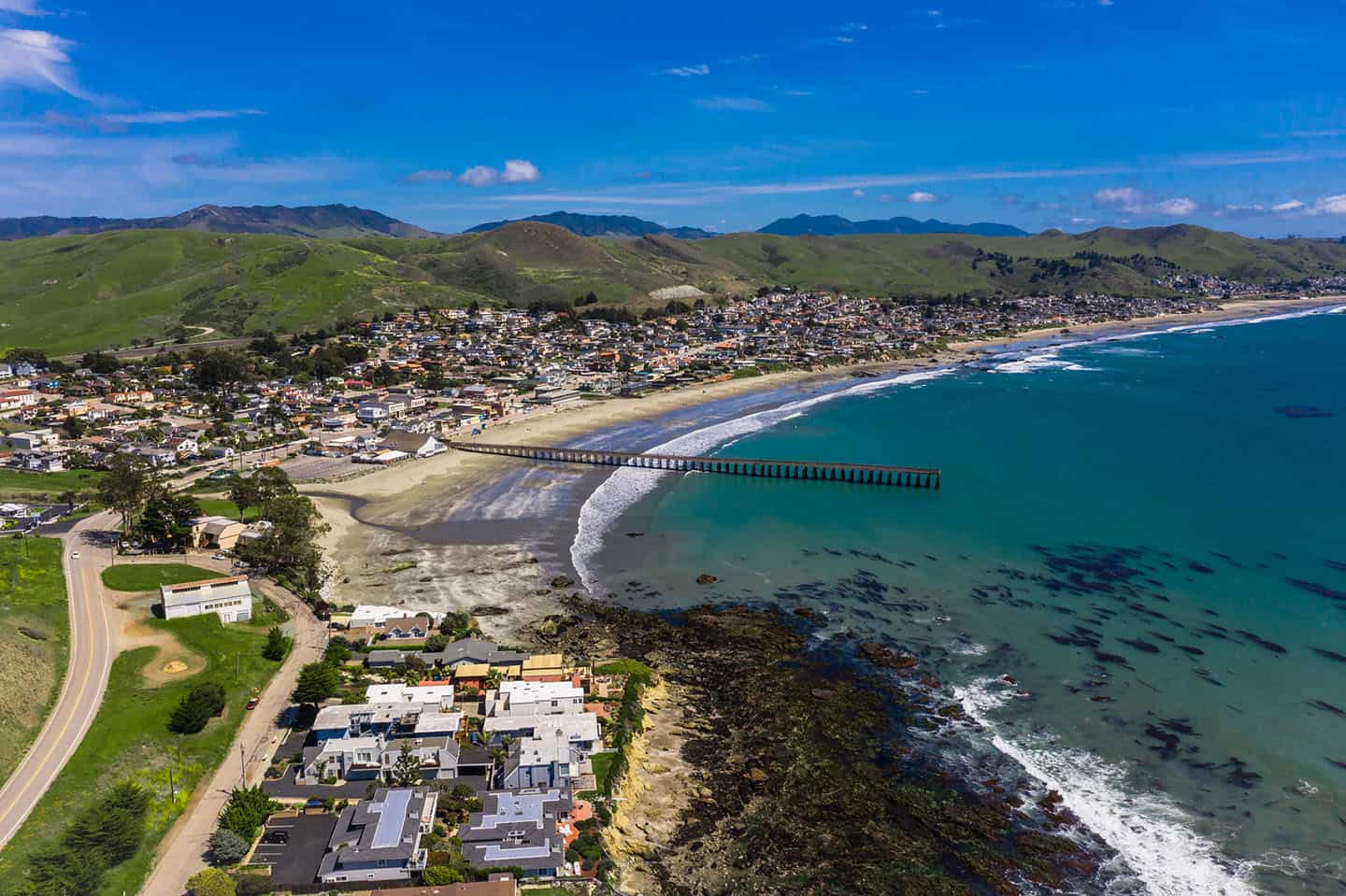 Cayucos Dog Beach
Also known as "Toro Creek Beach," this charming off-leash dog beach lies on Cayucos's southern end. (It's also often called the "Morro Bay Dog Beach" as it's just north of Morro Rock.) Let your four-legged friend frolic, leap, sniff and play leash-free in the surf and on the sand. This stretch of coastline has something for the whole family, including beachcombing (sand dollars!), wildflowers, tidepools, surfing, fishing and birding. It also offers close-up views of Morro Rock, the last volcanic plug of the "Nine Sisters" series, and an iconic natural landmark along Highway 1. Accessing the beach is easy from where Toro Creek Road crosses Highway 1, and parking is free. Note, however, that this beach does not have restrooms or facilities. Also, if your dog is aggressive or has a strong hunting instinct, please leave him or her on leash or at home.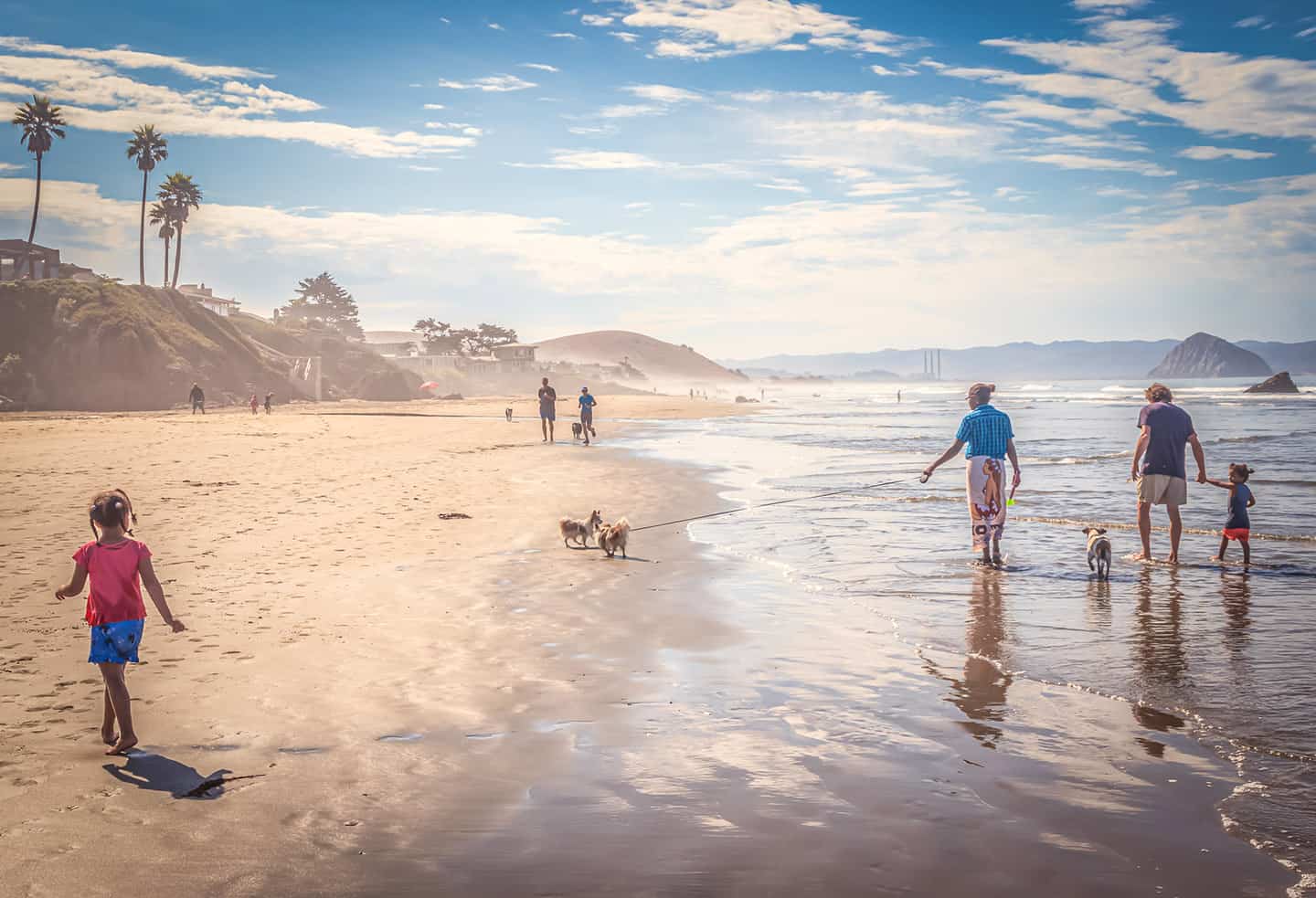 Los Osos
Los Osos' Spooner's Cove
If lounging by the ocean is your style, nothing beats the views at Spooner's Cove beach. The spot is named after a previous owner, Alden B. Spooner II, who smuggled illegal alcohol from this very beach during the Prohibition. A quick glimpse of the landscape explains why: the cove is completely protected. Fed by a freshwater stream, Spooner's Cove offers younger kids a safe spot to wade, play, and explore. At low tide, older kids and adults will want to scramble up the striking rock formations that protrude on the beach's northern end. These also provide views of the (very advanced) surfers who take on the challenging waves at the surf spots called Lonesomes and A-Frames. Crouch down to discover the tidepools along shore, where tiny worlds populated by anemones, hermit crabs, urchins and sea stars. But no matter how you decide to spend your time at Spooner's Cove, plan to take your time here. Bring lunch, lay out a blanket (or sit at the picnic tables) and soak up the sights and sounds of this natural playground. Free parking is located on the beach just steps from the water, making this one of the most easily-accessible beaches in the area. Find Spooner's Cove at the entrance to Montaña de Oro State Park, just across from the historic Spooner Ranch House.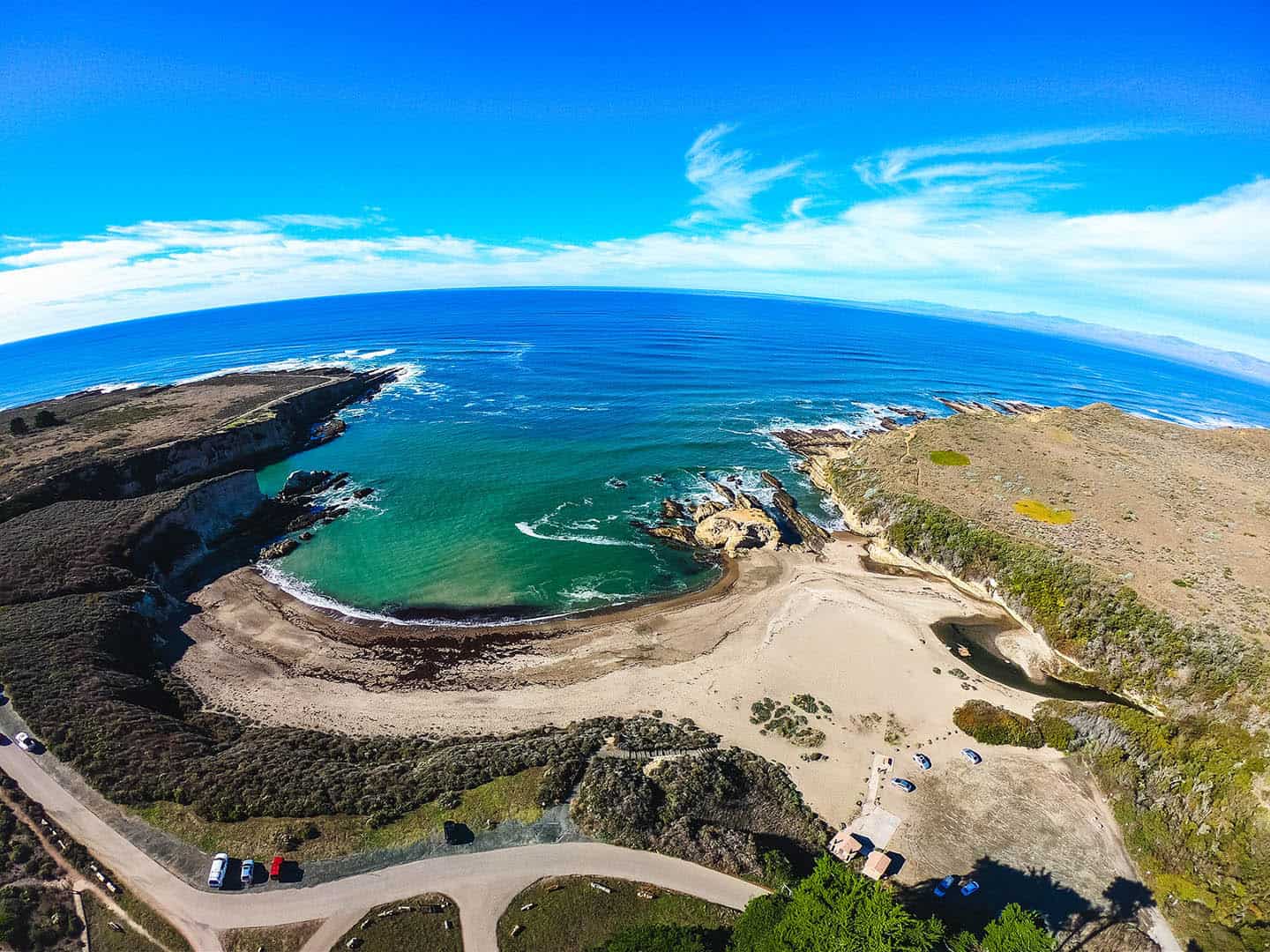 Los Osos's Sandspit Beach
Sandspit Beach is popular for surfing and fishing—but as for beachgoing, it's largely empty, making it one of the locals' best-kept secrets. In fact, it's safe to say you'll never find crowds here. One reason for Sandspit's emptiness is its seclusion. The beach can be reached by a 1/4-mile hike via Pecho Valley Road to Sandspit Road in Montaña de Oro State Park. For a day-long adventure, you can even walk the entire length of Sandspit Beach—all the way to Morro Rock—and back. At the trailhead, you'll find restrooms, a picnic table, and free parking. Alternatively, Sandspit Beach can be reached by water via the Morro Bay National Estuary. Put in a kayak, paddleboard, boat or canoe at the Morro Bay State Park Marina and paddle across to the dunes. (These can reach a height of 85 feet, perfect for running or tumbling down.) Enjoy the calm back side of the dunes, or hike over them to their Pacific Ocean side. From here, you'll quickly figure out the sandspit is the windbreak that keeps the estuary calm. So make a day of it: bring a picnic across the estuary and enjoy a secluded afternoon on the sandspit. Just remember the beach offers no services or facilities; plan to pack everything you need both in and out.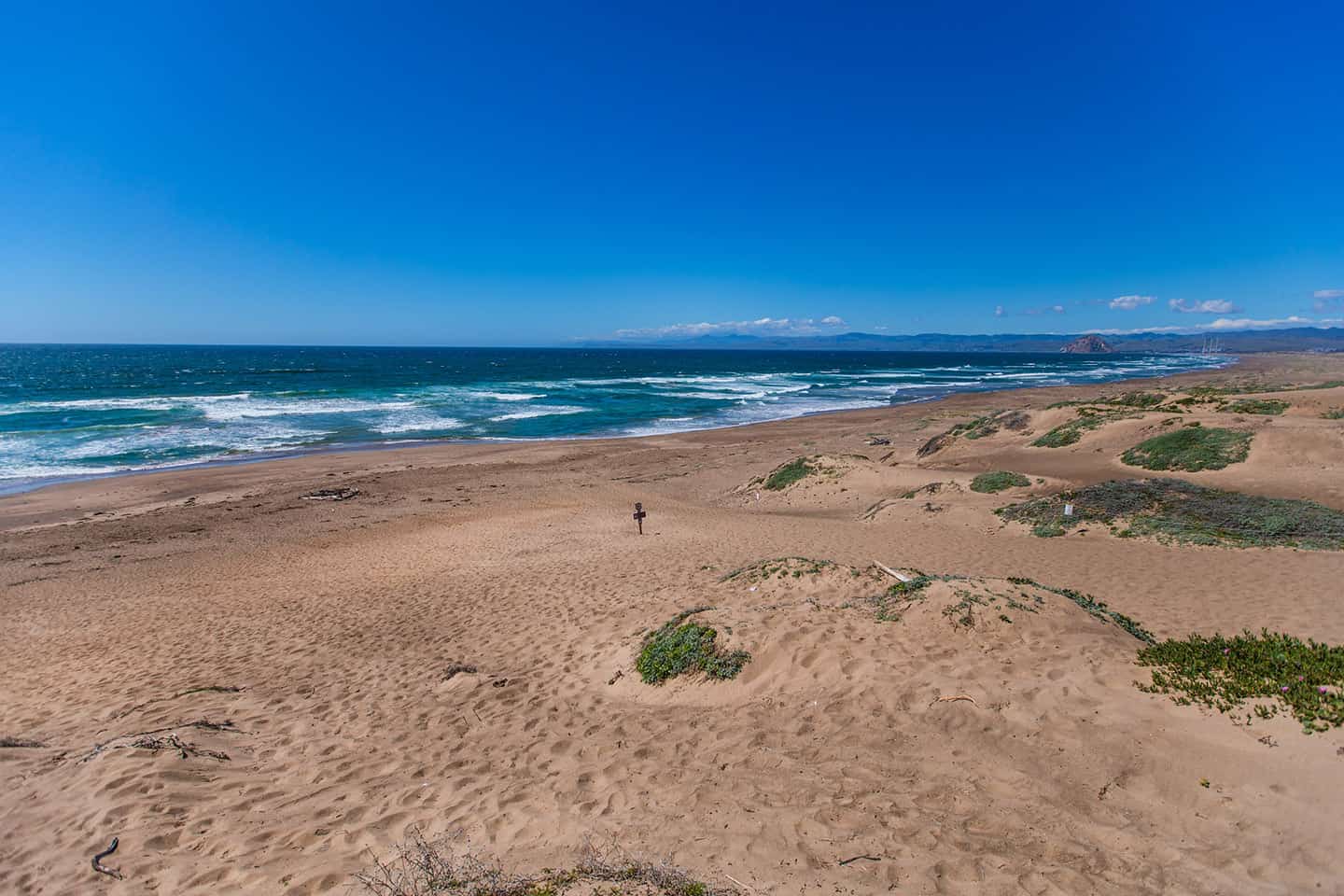 Avila Beach
Pick your perfect paradise on what might be the most kid-friendly beaches on Highway 1. This spacious beach features soft, fine sand and gentle waves, ideal for little ones and water play. (Lifeguards stand watch over the beach during peak summer months.) The boardwalk offers restrooms and outdoor showers, as well as access to multiple ice cream shops directly along the promenade. A popular pirate-themed park is also located directly on the beachfront, at Avila Beach's northwest end. The park offers a bustling playground, basketball courts, restrooms, vending machines, and water fountains. Want to learn more about the marine life in Avila Bay? Visit the Central Coast Aquarium, located adjacent to Pirate Park and home to jellyfish, sharks, and an octopus. Additional amenities at Avila Beach include picnic tables, BBQ stands, and parking, along with multiple lodging options. Bring your family for a walk along the pier, or hit up one of the many restaurants that line the beach. Just remember to leave Fido at home between 10 A.M. and 5 P.M. (Or take him to Olde Port Beach, just south on Avila Beach Drive—see below.)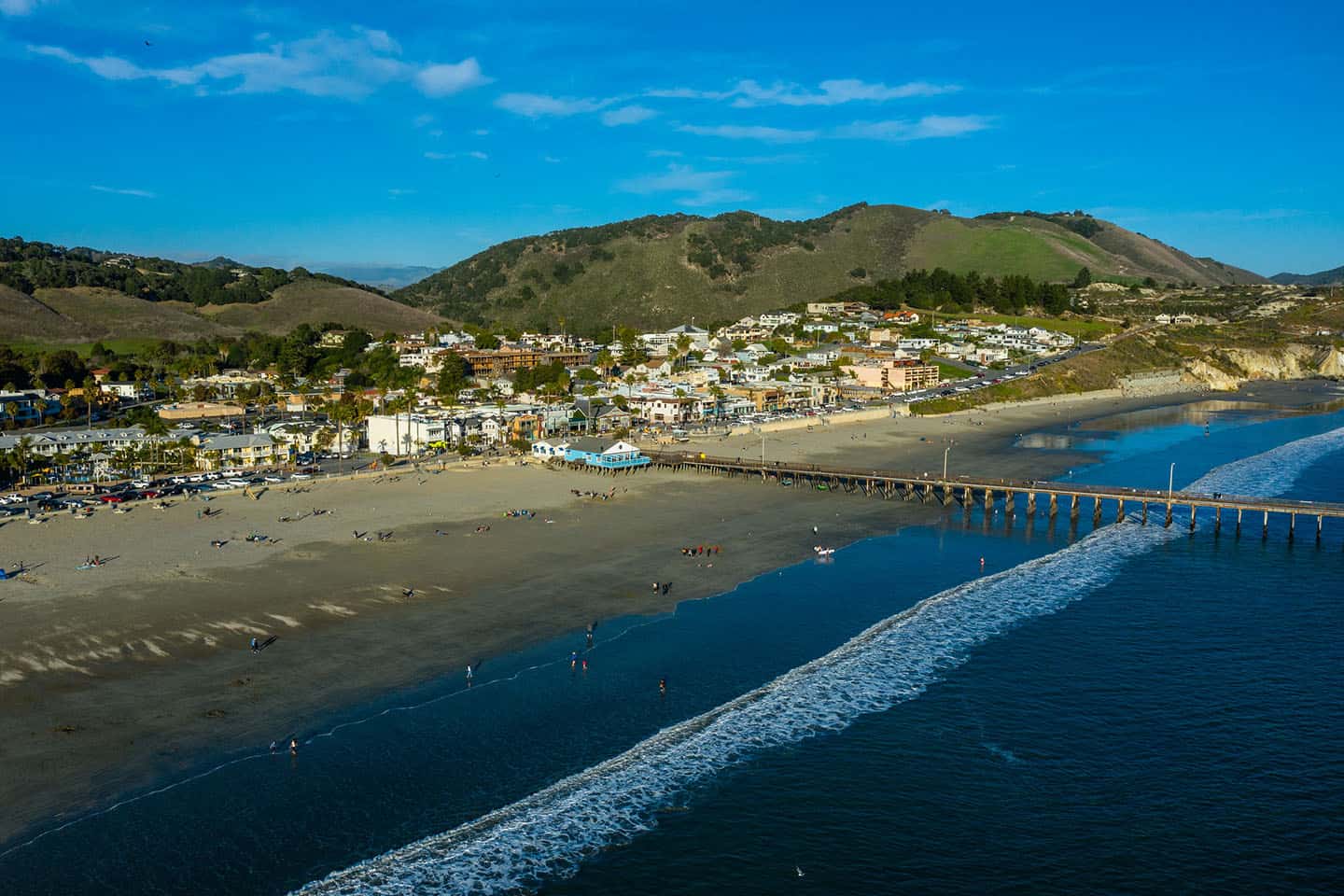 Olde Port Beach at Avila Beach
One of only two off-leash beaches along Highway 1, Olde Port Beach is for the dogs! On this long stretch of open shoreline, pups of all sizes, shapes and personalities can run, cavort, sniff and socialize leash free. Located on the north side of Avila Beach, Olde Port Beach sits just across the mouth of San Luis Obispo Creek. (It's also a midway point between the Cal Poly Pier and the historic Harford Pier.) Enjoy access to easy street parking, restrooms, and a boat ramp for those who paddleboard or kayak. Families appreciate the small waves and calm waters here—though it's worth noting that lifeguards don't watch this beach. Walk to the port, grab an ice cream at the boatyard bait shop or have excellent seafood at Mersea's, and watch the harbor seals sun themselves. Within close proximity of Port San Luis and all it has to offer, this is a popular beach for a reason! Just remember: Olde Port Beach welcomes lots of four-legged friends. If you're uncomfortable with dogs, try one of Highway 1's many other beaches.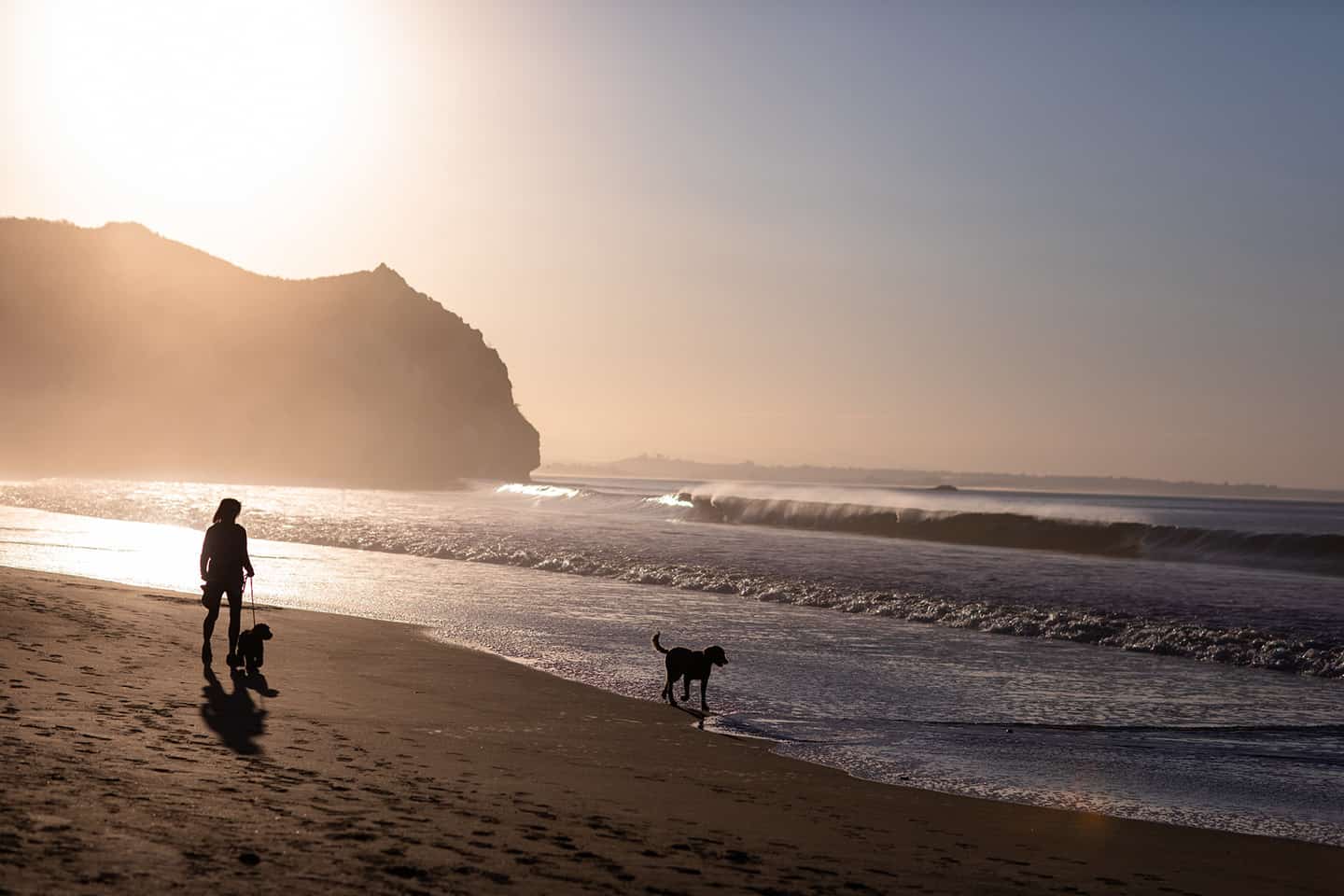 Pirates Cove at Avila
One of the prettiest and most protected beaches on this stretch of Highway 1, Pirate's Cove comes with a caveat: participation is clothing-optional. In other words, yes, it's a nude beach. If that's your vibe, you'll find Pirate's Cove absolutely delightful, with white sands, rugged cliffs, and serene waters. Given its seclusion, reaching the beach requires a hike down steep terrain and through rock formations, so bring sturdy shoes. The reward is access to a beach with almost no waves, as the cove calms the ocean for a peaceful seaside experience. (This explains why bootleggers used the beach to smuggle booze during the Prohibition of the 1920s and '30s.) On warm days, you may find locals playing beach volleyball at the cove's end. Reach the trailhead at the end of Cave Landing Road, where a dirt parking lot leads to the rugged 1/4-mile trail. Just remember: this is an adults-only spot. If you're traveling with kiddos, bring them to one of Highway 1's many family-friendly beaches instead.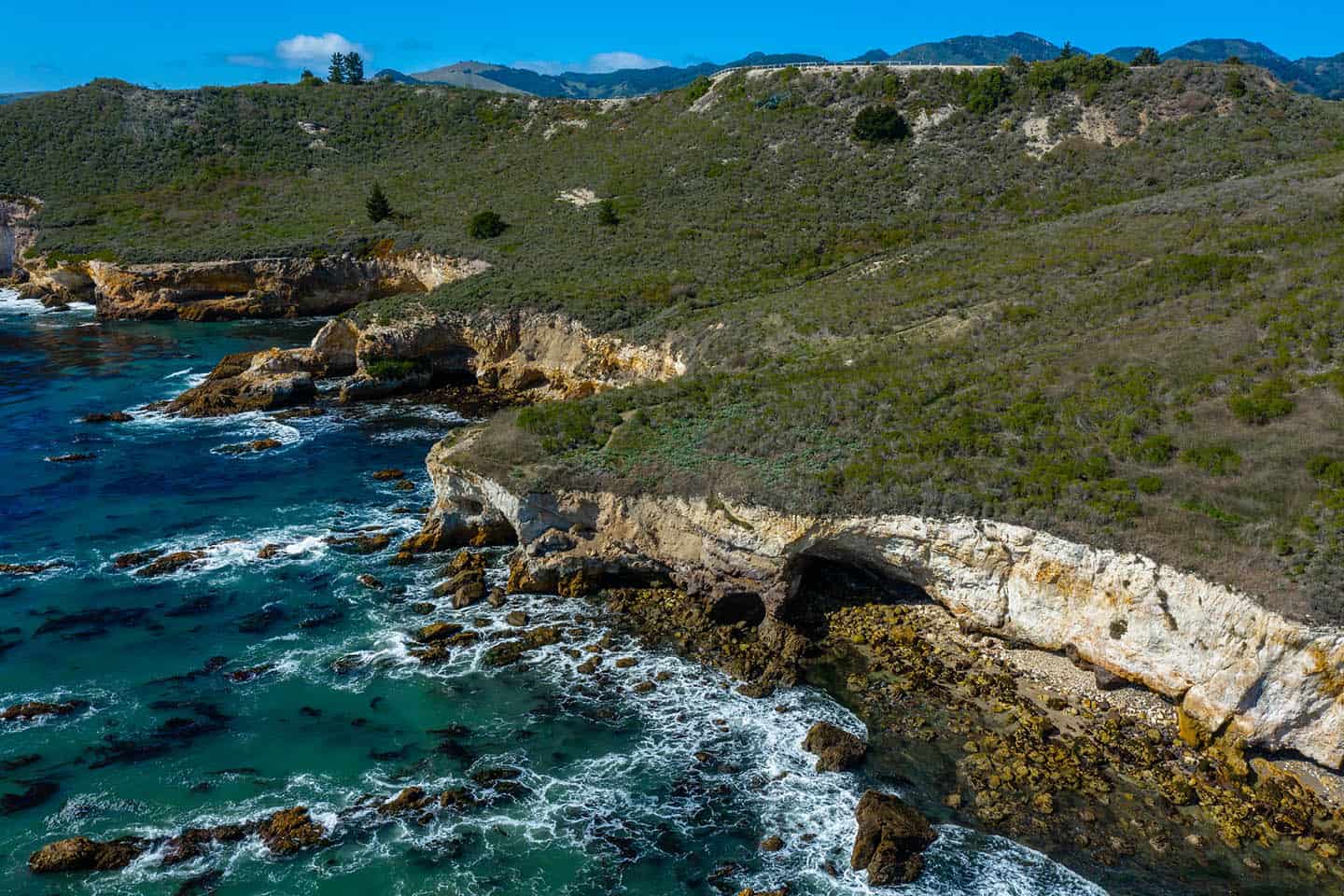 Arroyo Grande
Arroyo Grande's Lopez Lake
Want a beach that's not along the Pacific shoreline? Try Lopez Lake for something different, located inland from Arroyo Grande in the Lopez Lake Recreation Area. The lake's 22-mile perimeter offers a private beach experience, whether visitors park and walk to shore or rent a boat to discover hidden coves. Head to the Lopez Lake Marina for a variety of watersport rentals, from jet skis and paddleboats to pontoon boats, waverunners and more. This is also a popular destination for anglers, with access to excellent largemouth and smallmouth bass fishing from shore or by boat. Be aware that the wind tends to pick up in the afternoon, so a visit earlier in the day will offer calmer conditions. For folks with lots of energy and a thirst for fun, Lopez Lake also features the Mustang Waterslide Park and Vista Lago Adventure Park. Combine these two park experiences with time on Lopez Lake, and you can have a full day of water fun here.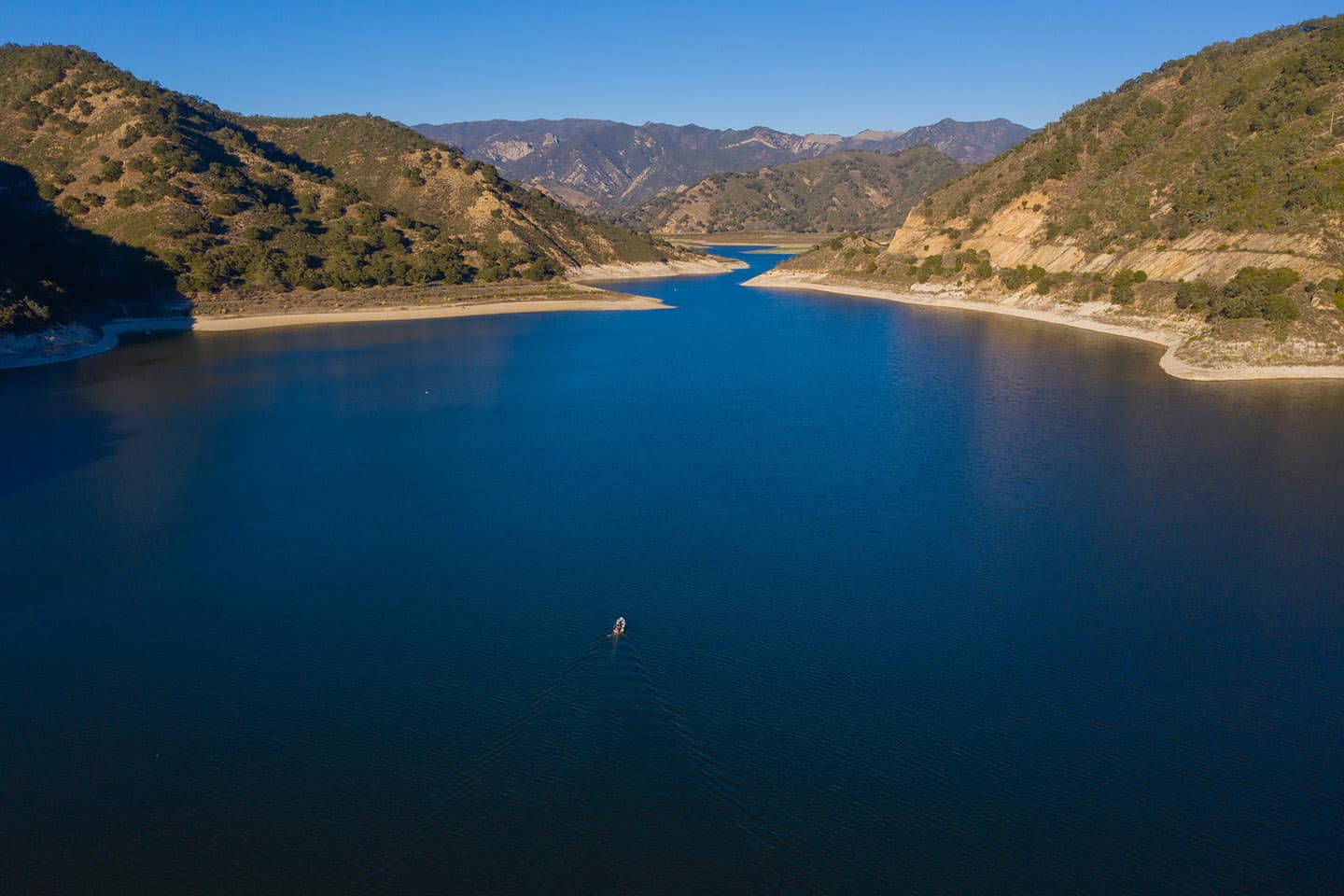 Oceano
Oceano Dunes
Aside from the fact that they're part of one of the largest dune complexes in the nation, the Oceano Dunes are unique for allowing motor vehicles directly onto the sand. You read that right: the Oceano Dunes are the only coastal dunes in California where driving is permitted. Head to the beach entrance at the end of Grand Avenue in Oceano and drive south onto the beach (to avoid the crowds in Pismo Beach). Choose a spot to park and set up for the day! Dig a pit for a bonfire (which is also allowed here), and bring out your surf-fishing gear, kite surf, or sand toys. The beach is 18 miles long, so you'll have no trouble driving out to find your own private spot. But vehicles aren't the only transportation option here: you can also ride horses on the Oceano Dunes. If you don't bring your own trusty steed, call Pacific Dunes Riding Ranch for a guided ride on their horses.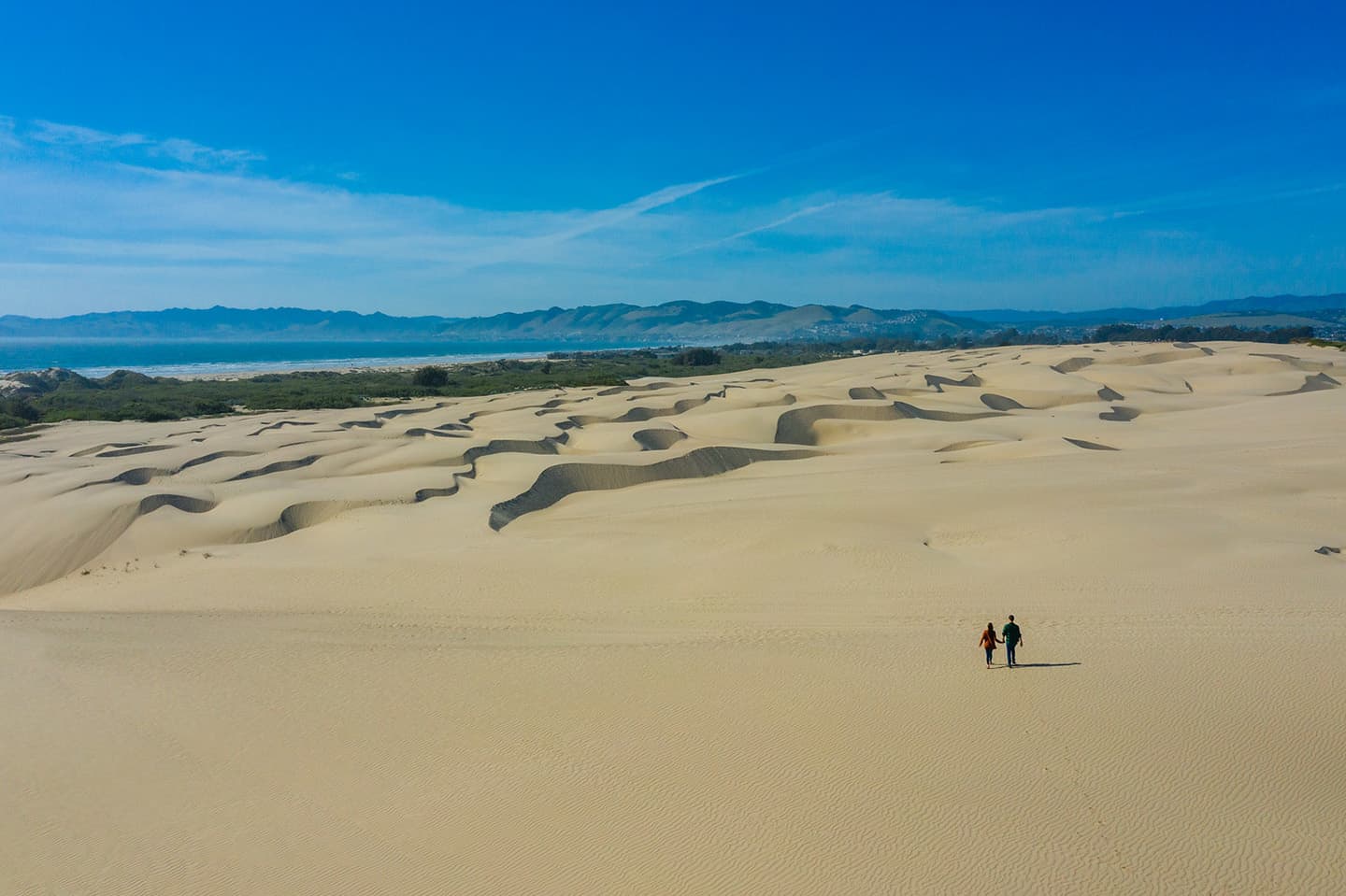 Other Beaches
Looking for crowded beaches? Probably not. While this stretch of Highway 1 includes 57 miles of beaches, they're not all created equal. With its classic California beach culture, souvenir shops, pier and casual eateries, Pismo Beach is fun and entertaining, but it attracts loads of tourists. The same goes for Morro Rock Beach, whose embarcadero, marine wildlife and fresh seafood are sought after by visitors from across the world. Keep this local insider information in mind as you plan any trip, whether you're traveling as a couple, a family, a pet-owner, or a solo adventurer.