Of the 101 miles of coastline in San Luis Obispo County, half are protected shoreline. In other words, the odds are good that surf, sand and sun are always within reach here.
The Central Coast boasts some of the best beaches in the U.S., and certainly on the West Coast. What sets them apart? Think miles of white sand, uncrowded, untouched ― and unbelievably scenic. Visitors can find a spectrum of options, with ideal beaches for sunbathing, beachcombing, wildlife viewing, surfing, tidepooling, doggie fun or even dune-driving. No matter your idea of the perfect vacation, the beaches between Big Sur and Nipomo have you covered.
Download your free beaches map from highway 1
Explore the Best Beaches in Central California
When To Visit
Due to temperate weather, the Central Coast's beaches can be visited comfortably year-round. But depending on your goals, a bit of planning and insider info goes a long way.  For sunny family fun, swimming and kayaking, the months of July through October offer the best weather. For surfing, winter tends to be the best season for wind and swells. (Just bring a wetsuit! Central Coast waters can be quite chilly.)
Opportunities for whale watching, bird watching, and elephant seal mating and birthing peak in winter to early spring. Beachcombing, pet play, horseback riding, tidepooling and driving on the beach occur year-round.
What To Bring
Weather tends to be temperate but can be changeable, so layered clothing is recommended. Bring towels, sunscreen, sand toys, boogie boards/surfboards, wetsuits, bottled water, snacks and beach blankets.
Best Beaches for Families on the Central Coast Along Highway 1
Avila Beach
Pick your perfect paradise on one of the best family beaches in California! This spacious beach features soft, fine sand and gentle waves, ideal for little ones and water play. (Lifeguards stand watch over the beach during peak summer months.) The boardwalk offers restrooms and outdoor showers, as well as the adjacent Pirate Park with basketball courts and a playground. Additional amenities include picnic tables, grill stands, and parking, along with multiple lodging options. Bring your family for a walk along the pier, or hit up one of the many restaurants that line the beach. Just remember to leave Fido at home between 10 A.M. and 5 P.M. (Or take him to Olde Port Beach, just south on Avila Beach Drive, where off-leash dogs happily play.)
Directions: From Highway 101, take the Avila Beach Drive exit and head west for 2.5 miles. Turn left on San Juan Street and take the next left onto Front Street, which faces the beach.
Download your free beaches map from highway 1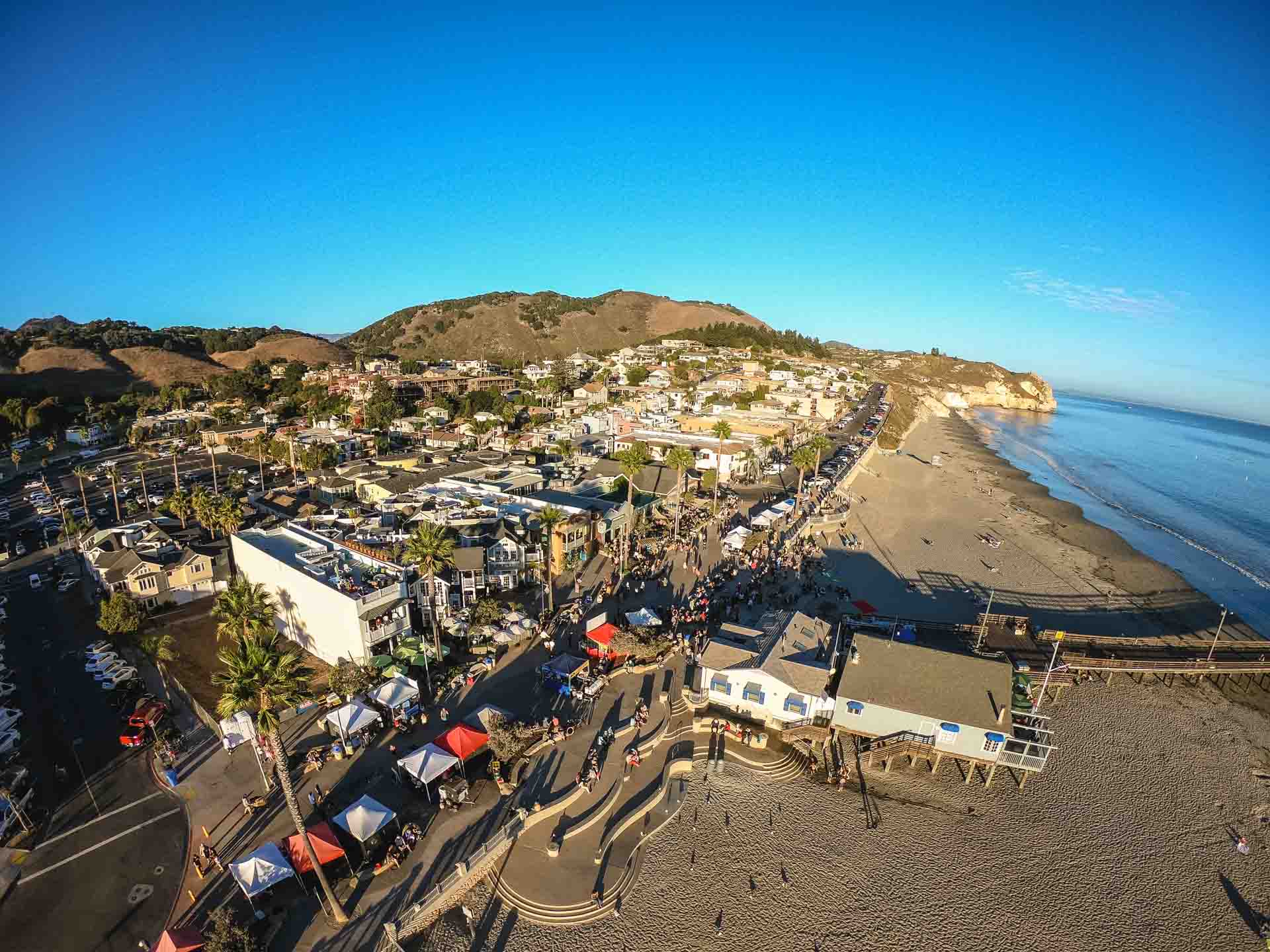 Cayucos State Beach
Cayucos State Beach blends sand, surf and sun for a classic California vibe. Kids will love the sizeable beach playground, tidepools and fishing off historic Cayucos Pier. (No fishing license required!) For surfers, the waves near the pier offer thrills, and surf schools like Cayucos Surf Company help newbies get in on the action. (Lifeguards watch the beach in summer months.) Multiple casual restaurants line the shore (including the sea-worthy Schooner's Restaurant) as well as a range of accommodations. Other amenities include restrooms, outdoor showers, and parking. Dogs are allowed on Cayucos State Beach on leash.
Directions: From the south, take Highway 1 to the 13th Street exit and head west on 13th Street. Turn right on South Ocean Drive and drive for 1 mile. Turn left on Cayucos Drive and left on Ocean Front Avenue, which faces the beach. From the north, turn right off Highway 1 onto North Ocean Avenue. After 0.7 miles turn right on Cayucos Drive and left on Ocean Front Avenue, which faces the beach.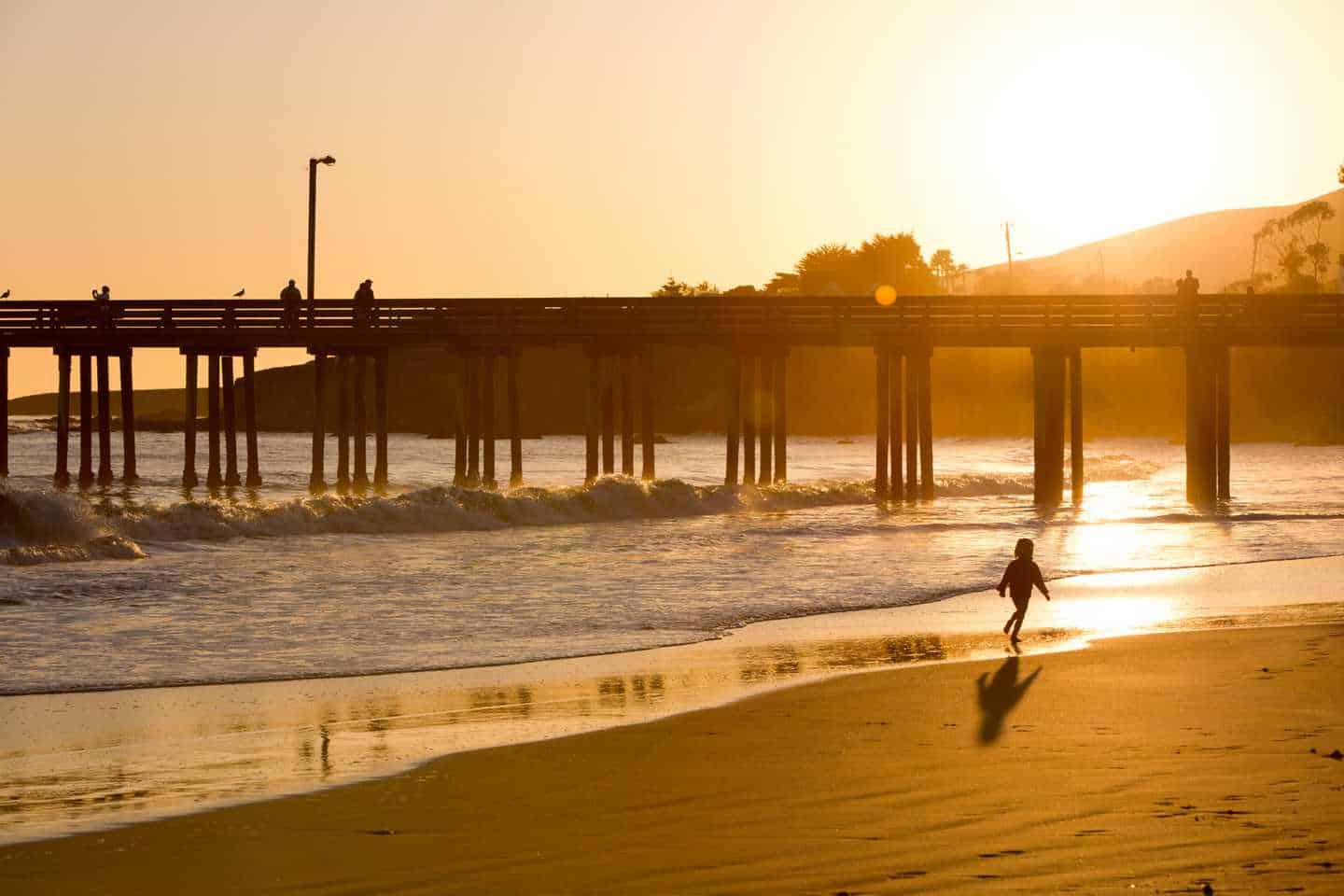 W.R. Hearst Memorial Beach
, San Simeon
A local favorite, this beach stands adjacent to the town of Old San Simeon, across Highway 1 from Hearst Castle. In addition to calm waters and a long coastline, this protected cove also offers picnic sites, parking, restrooms, and grill stands. Little ones will enjoy sand play, walking the pier and fishing (no license required), as well as swimming, kayaking and sunbathing. The Coastal Discovery Center, just beside the beach, contains educational exhibits about the shoreline, wildlife, local history and more. 
Directions: From Highway 1, turn onto Slo San Simeon Rd toward the ocean and follow to the beach.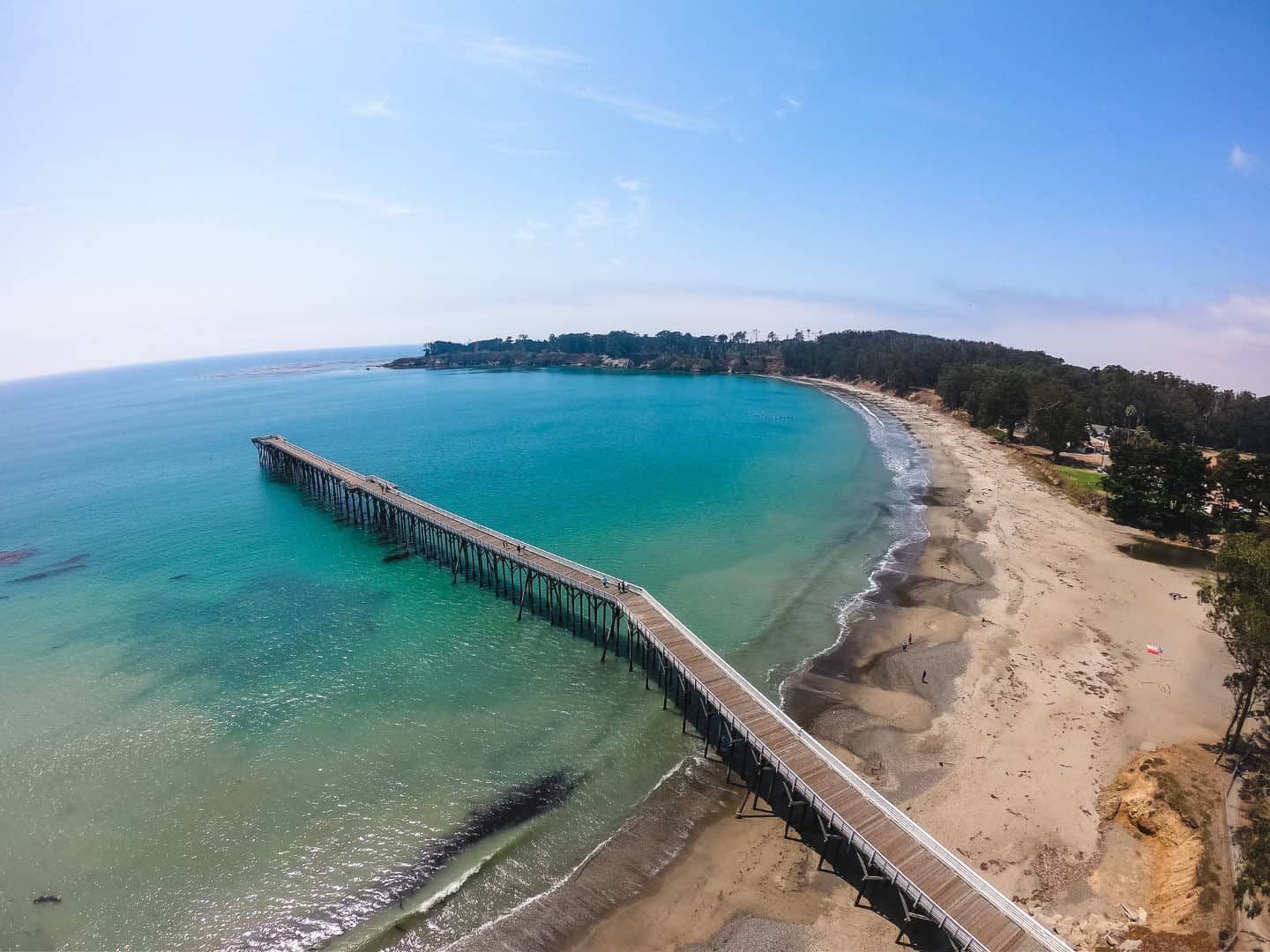 Download your free beaches map from highway 1
Moonstone Beach, Cambria
One of the best beaches in Central California for beachcombing, Moonstone Beach encourages exploration for visitors of all ages. This beach is known for its smooth "moonstones" as well as sea glass and driftwood. Waves can be large and strong here, often unsuitable for swimming or surfing. But adjacent Shamel Park offers parking, restrooms, a playground, gazebo, horseshoes, playing field, and seasonal heated swimming pool. Note: dogs are not allowed on Moonstone Beach, but are permitted on leash in Shamel Park.
Directions: From Highway 1, turn west on Windsor Boulevard. Drive 0.3 miles and park beside Shamel Park. Moonstone Beach can be accessed through the park.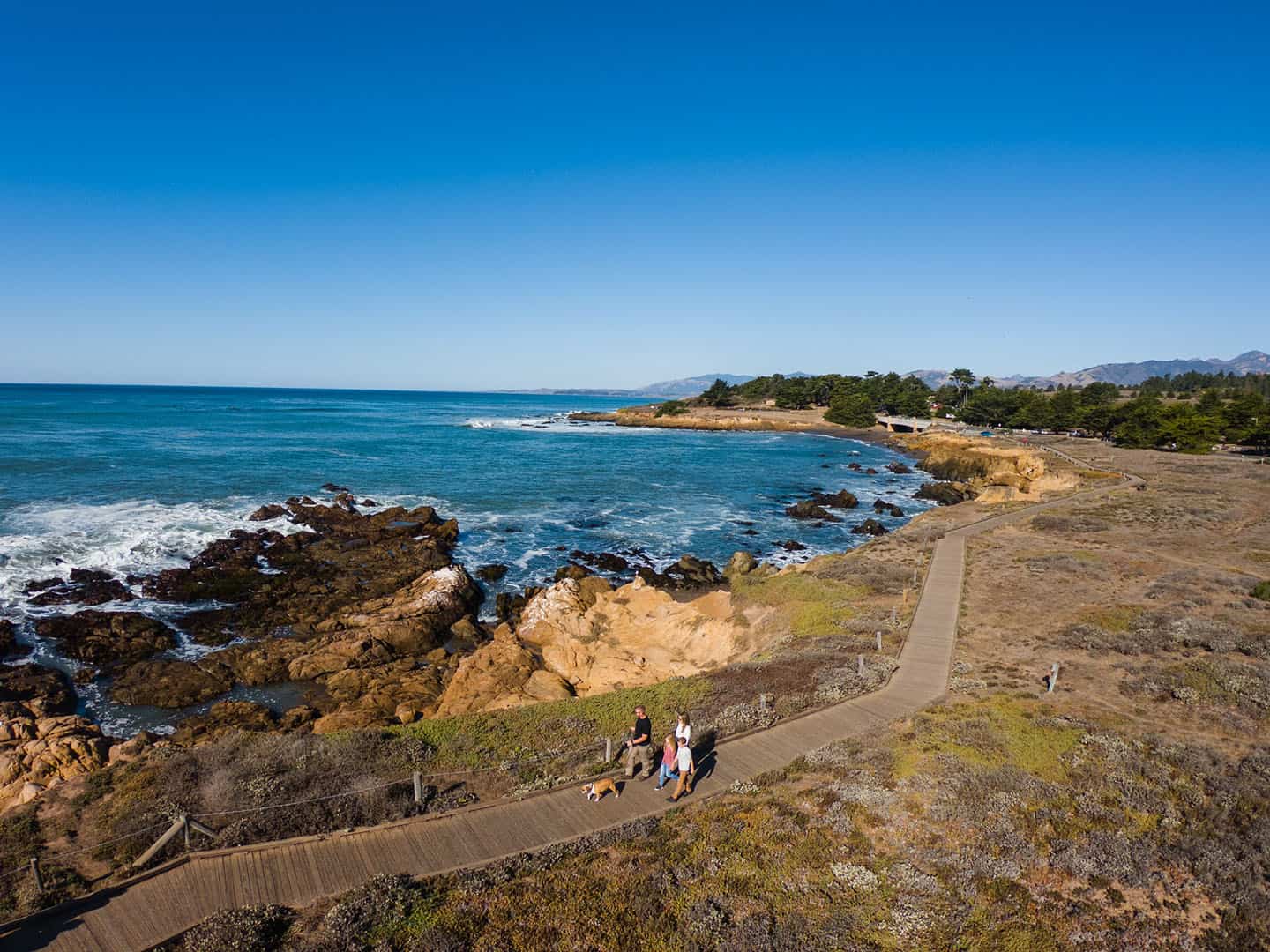 Morro Bay Strand State Beach Day Use Area, Cayucos
The 6 miles of white sand beach between Morro Rock and the Cayucos Pier make for a scenic and challenging walk in Highway 1 Discovery country. The Morro Bay Strand Day Use Area covers a section of that beach boasting ideal conditions for fishing, windsurfing and kite-flying. It's also a popular training ground for joggers. With excellent facilities for picnicking, this stretch enjoys a picturesque view of Morro Rock in the distance. Note that leashed dogs are allowed in the adjacent campground, but not on the beach.
Directions: The Morro Bay Strand lies 2 miles south of Cayucos on Highway 1. From Highway 1, head west on Cass Street. Make a slight left on 24th Street and follow toward the beach. Park in the lot beyond the State Beach sign.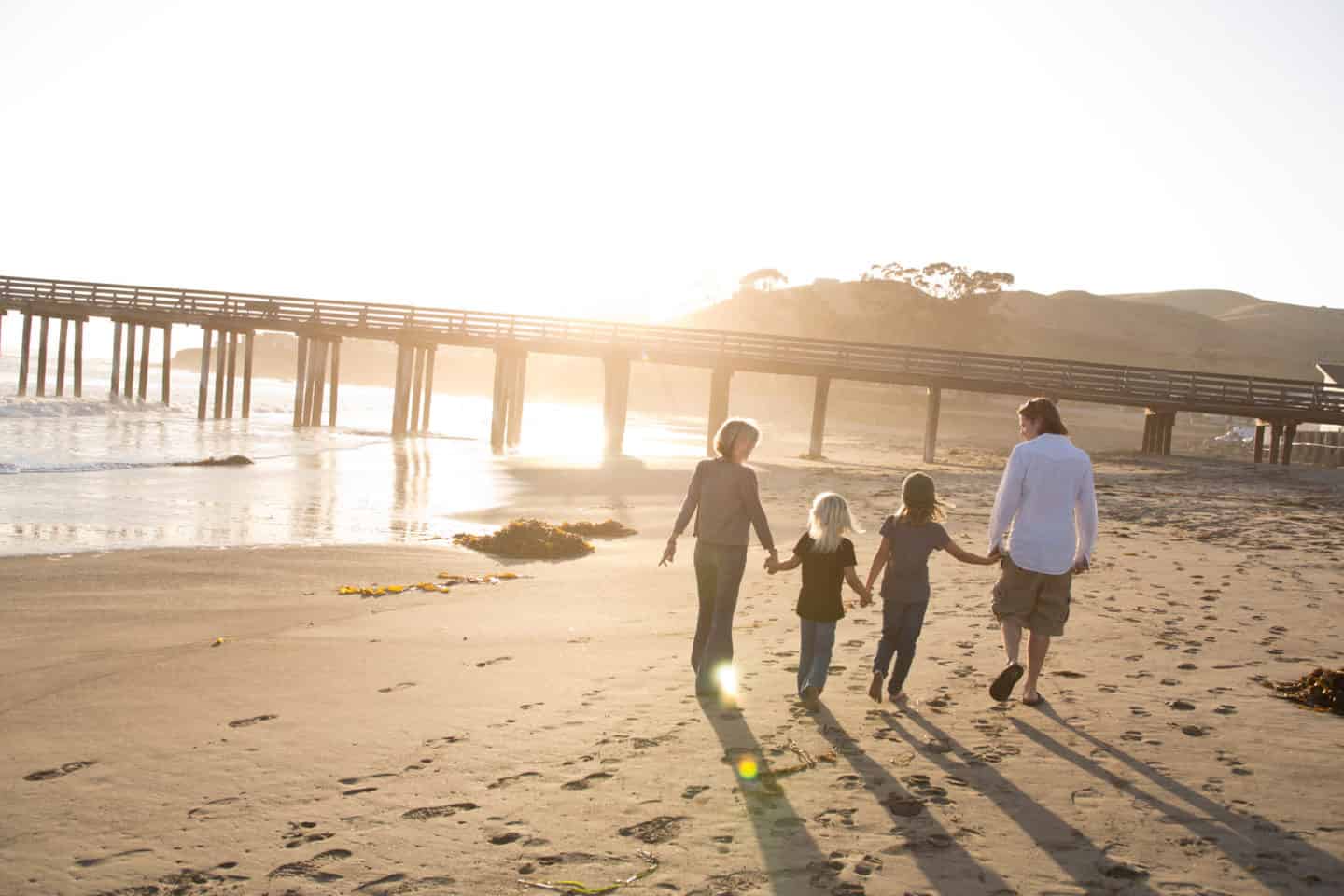 Morro Bay Dog Beach, Cayucos
Let your four-legged friend play in the surf at this charming off-leash dog beach on Cayucos's southern end. This stretch of coastline has something for the whole family, including beachcombing (sand dollars!), wildflowers, tidepools, surfing, fishing and birding. It also offers beautiful views of Morro Rock, as well as free parking. Note that this beach does not have restrooms or facilities. Also, if your dog is aggressive or has a strong hunting instinct, please leave him or her on leash or at home.
Directions: Access North Point Dog Beach off Highway 1 just south of Cayucos. At Toro Creek Road, turn toward the ocean and find parking between the highway and the shoreline.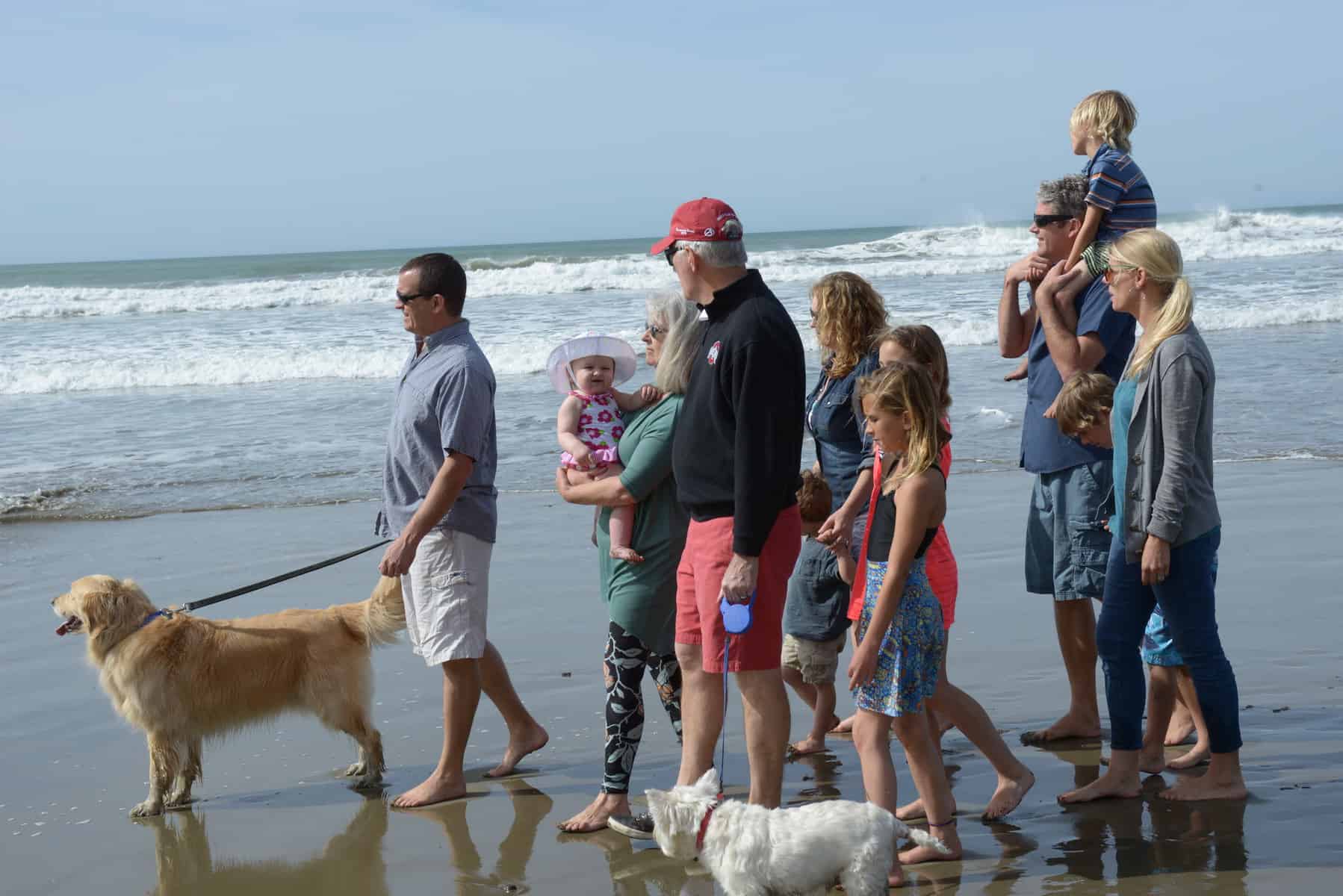 Estero Bluffs Beach
Part of a scenic state park, this beach can be reached by hiking through grasslands along the bluffs. While several beaches skirt the trail below, the most accessible sits in a sandy cove where Villa Creek meets the sea. Here, find a great spot for tidepooling, whale and birdwatching, and beachcombing. Parking is easy to find along Highway 1 between Cayucos and Cambria.
Directions: From Cayucos, drive north on Highway 1 for about four miles and look for parking areas on the ocean side of the road.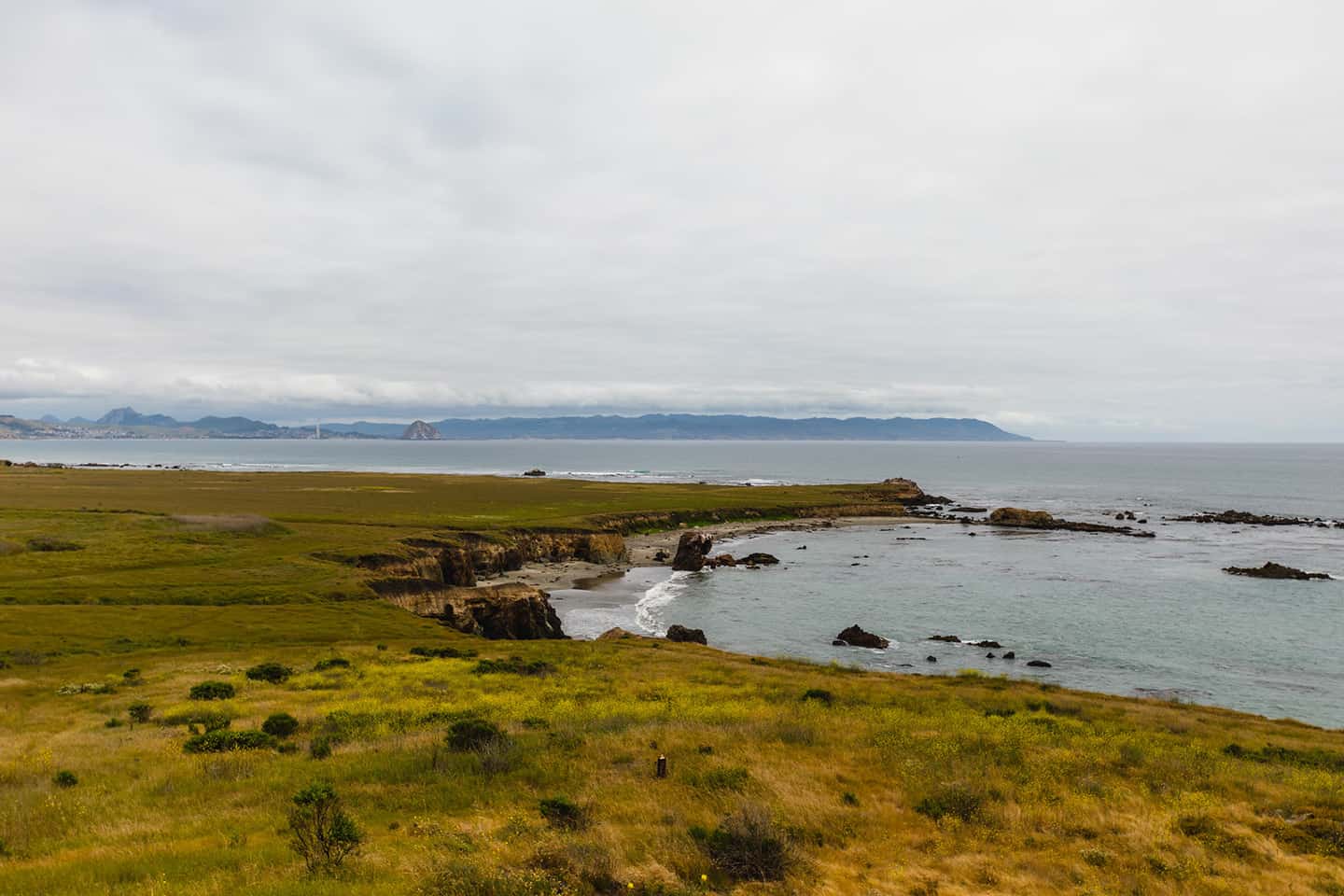 Download your free beaches map from highway 1
Explore the Best Beaches for Families
Best State Park Beaches on the Central Coast Along Highway 1
Montaña de Oro State Park
Want a state park with an ocean view? This scenic spot offers multiple options.
If lounging by the ocean is your style, nothing beats the views at Spooner's Cove beach. Find a protected cove here, fed by a freshwater stream perfect for wading. Amenities include bathrooms and free parking. (Note that dogs are permitted here on leash, but not on trails or other beaches.)
For a challenge, try hiking Valencia Peak, a 4.2-mile loop trail that ascends 1,347 feet. One of the highest in the park, this peak makes for a moderately strenuous hike with striking wildflower and coastal views. To find the trailhead, enter the park and drive through the eucalyptus grove. The parking area for Valencia Peak is on the left, just beyond the visitor center.
For horse lovers, Hazard Canyon provides terrific equestrian trails and access to potable water. Try the 11.2-mile Hazard Peak trail for a secluded, moderate ride. To get to the trailhead, enter Montaña de Oro State Park and drive through the eucalyptus grove. The trailhead will be on the left, just before Spooner's Cove.
The same views apply to mountain biking enthusiasts, too. Ride the Oats Peak Trail, an intermediate out-and-back singletrack clocking in at 11.2 miles and an ascent of more than 1,430 feet. To access the trailhead, enter the park and pass through the eucalyptus grove. Pass Spooner's Cove and the visitor center, then turn left on the road to the Islay Creek Campground. The trailhead will be on the right side of the road, just before dropping to the campground.
Directions: Travel 6 miles southwest from Morro Bay, or seven miles south from Los Osos on Pecho Valley Road.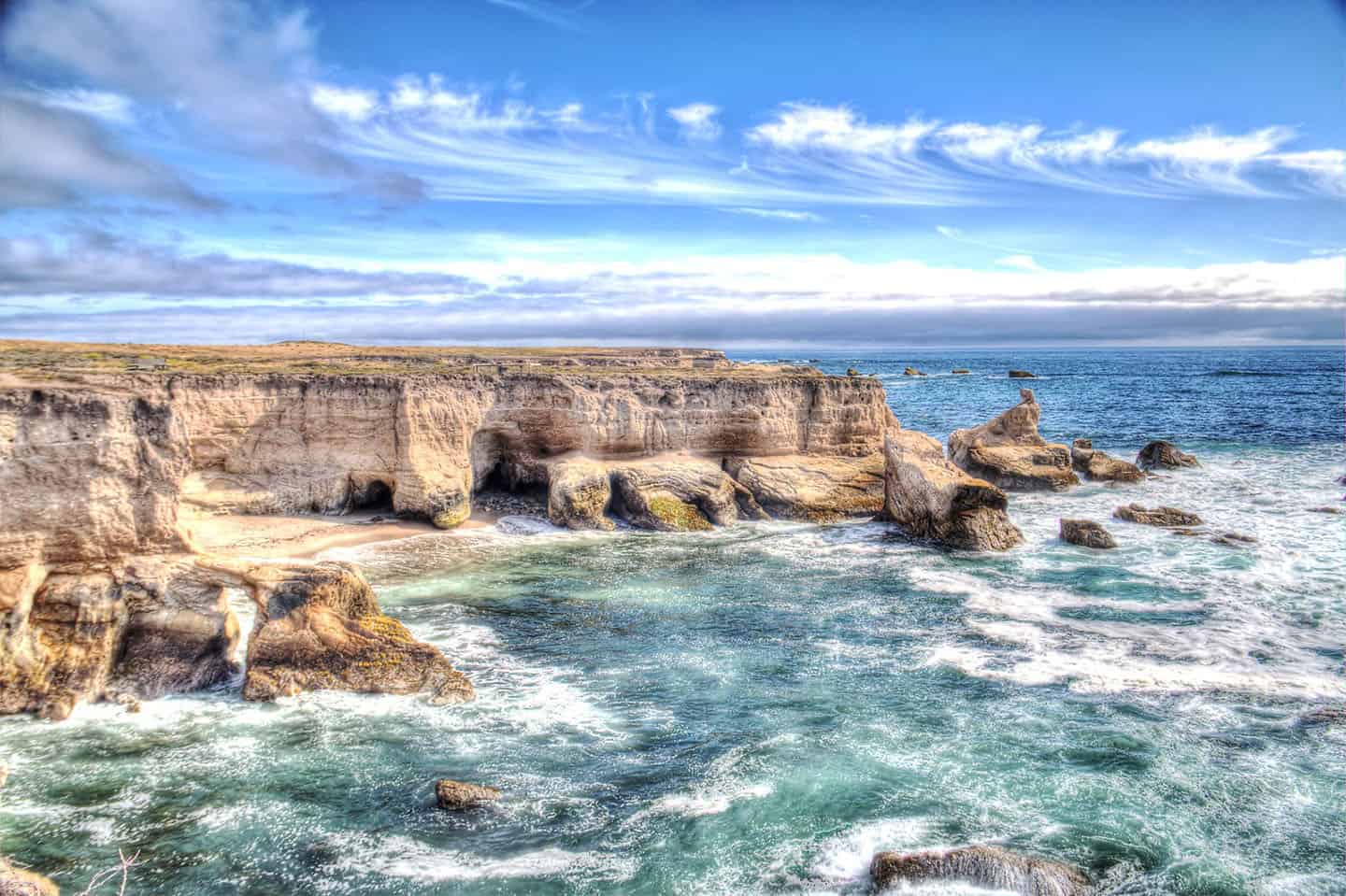 Morro Bay State Park
Visiting the Morro Bay State Park opens a window on the Central Coast at its finest. Enjoy a delicious breakfast at the marina, hiking, golfing or watching wildlife ― all beneath a stand of majestic Monterey Pines. Trails abound for hikers and mountain bikers, and kayakers will love cruising around the bay. (Note that dogs are allowed on trails with a leash.) When you're ready for an indoor adventure, don't miss the Natural History Museum, which has views of the ocean.
Directions: Take Highway 1 to the Los Osos – Baywood Park exit. Drive west for about 1 mile, then turn right into the state park.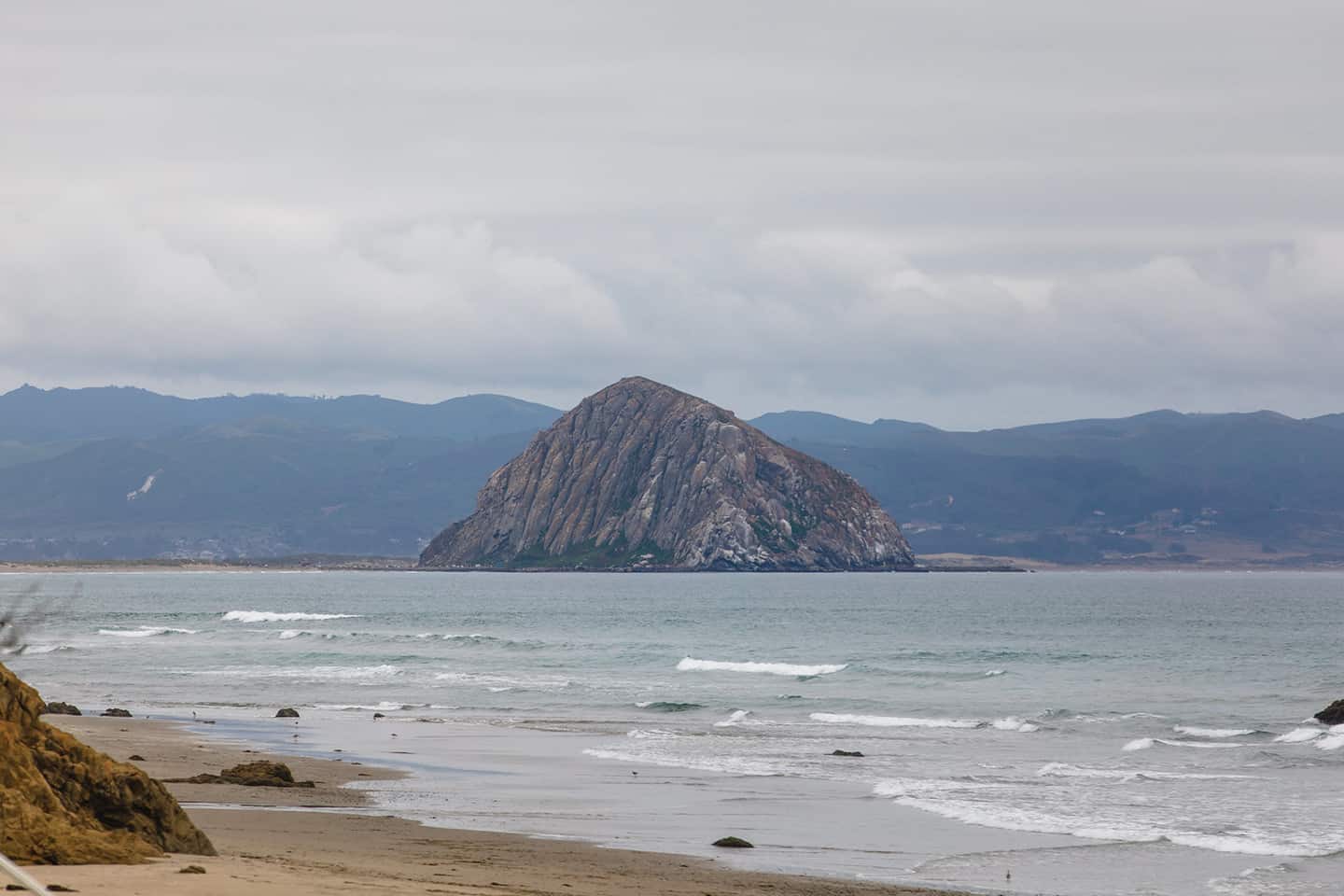 Pismo State Beach Oceano
As thrilling as it is beautiful, this state beach includes the Oceano State Vehicular Recreation Area (SVRA), which permits vehicles to drive on the beach. Other activities here include swimming, surfing, kite-flying and horseback riding. Visitors can also enjoy surf fishing or digging for famous Pismo clams. And don't miss the boardwalk from the SVRA parking lot to the Monarch Butterfly Grove Cross the freshwater lagoon adjacent to the grove for excellent birdwatching. (Note that dogs are allowed on leash only.)
Directions: From Highway 101, take the exit toward Pismo Beach/Wadsworth Avenue. Head west on Highway 1 about 7 miles. Keep left at the fork to continue on Highway 1 / Dolliver Street for 3 miles.Turn right onto Pier Avenue, then right onto Pismo State Beach.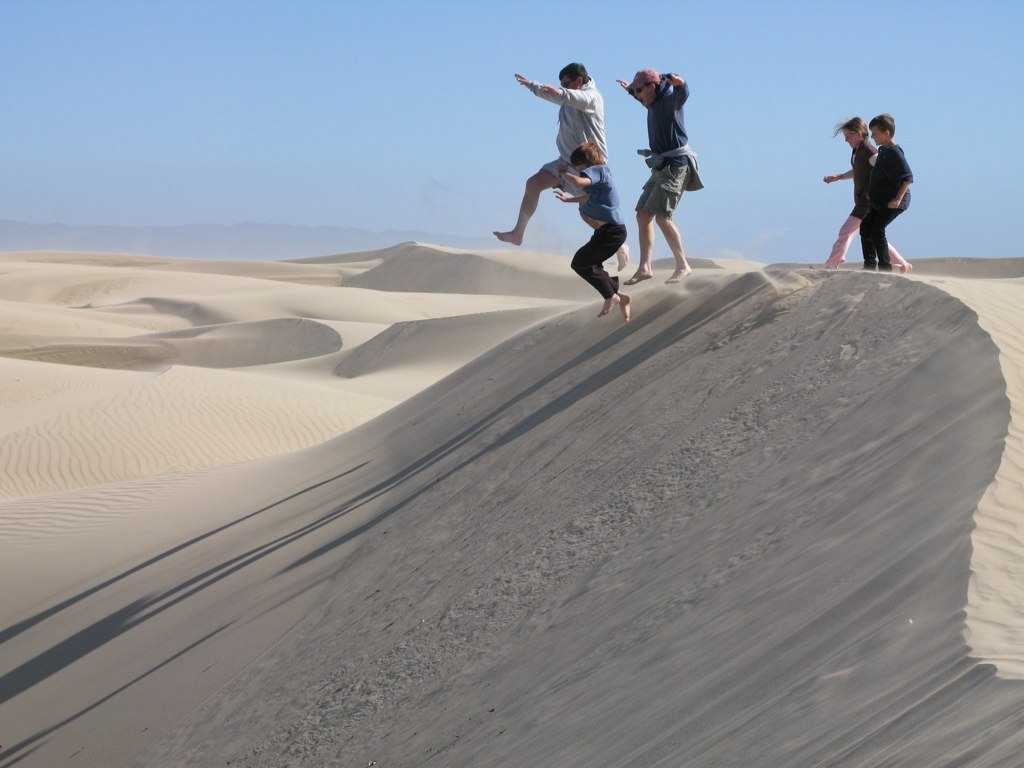 Download your free beaches map from highway 1
Explore The Best State Park Beaches
Best Central Coast Beach Vacation Towns Along Highway 1
Looking for classic beachy fun? Cayucos sits directly on the shoreline with personality to spare. Try breakfast at the Sea Shanty, then work it off with a walk along Cayucos State Beach. If the weather permits, enjoy surfing and sun bathing in its soft sand until lunchtime. Grab a slice at Ocean Front Pizza, or tacos at Ruddell's Smokehouse before taking a walk along the historic pier. Try fishing off the side, or browse the antique and surf shops along Ocean Avenue. And don't miss the Brown Butter Cookie Company, where brown butter cookies are topped with (what else?) sea salt. At dinner time, head to The Grill at the Cass House or Lunada Bistro for farm-to-table cuisine.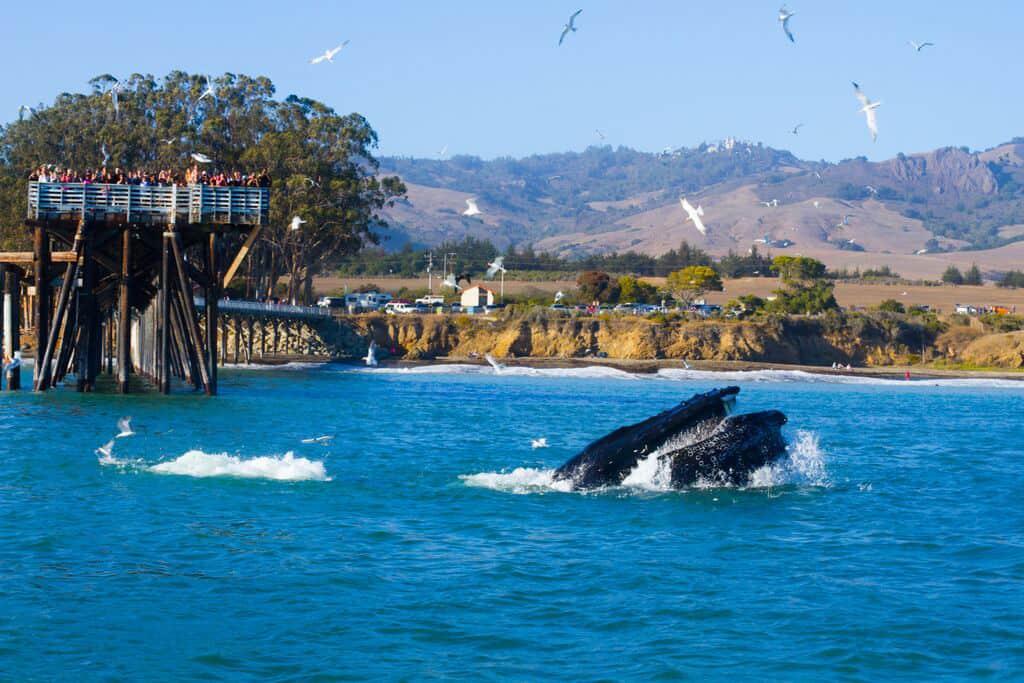 Start a day in Los Osos with coffee at the Back Bay Cafe, then head for Montaña de Oro State Park. Hike, bike, or ride a horse along any number of trails, then relax on the beach at Spooner's Cove. For lunch, grab tasty Mexican fare at La Casita (plus chips and a container of their legendary salsa for take-away). Then enjoy walking the labyrinth in Baywood, or take in the many artist's galleries and studios on 2nd Street. Munch those chips and salsa on the Baywood Pier, then dine at Blue Heron for farm-to-table cuisine and local wines.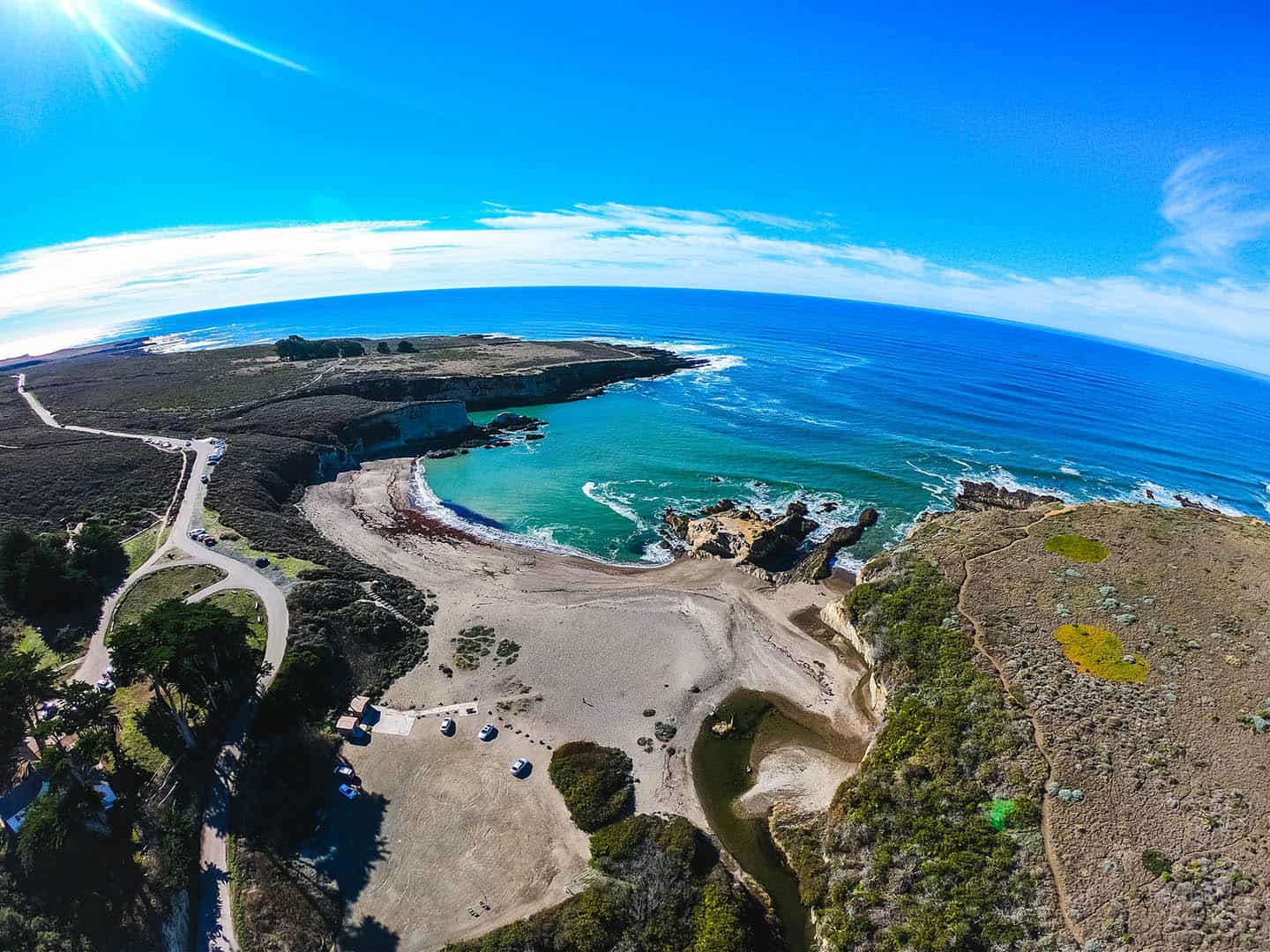 This protected paradise can be as exciting or as relaxed as you want it to be. Start with a walk beneath the leafy canopy of the Bob Jones Trail, with a stopover at Woodstone Marketplace for coffee and breakfast. Then finish at the beach for sunbathing, surfing or sand play.  (Avila Beach doesn't welcome dogs between 10am and 5pm, but Fisherman's Beach lets them roam off leash, down the road.) Or, if you golf, hit the links at the Avila Beach Golf Resort. Either way, you'll be hungry for lunch. Try Mersea's for fresh seafood with a view, or Custom House for classic American fare. Afterward, stroll the boardwalk's unique shops, or take a hike or trolley ride to the Point San Luis Lighthouse. (Remember to make a reservation for the visit!) For wine lovers, try wine tasting in spots like Sinor-Lavallee and Alapay Cellars. Finish with a French bistro dinner at Blue Moon Over Avila, or fresh flavors at romantic The Gardens of Avila.